'Star Wars: Episode IX' Director News Spawns Bizarre Fan Petition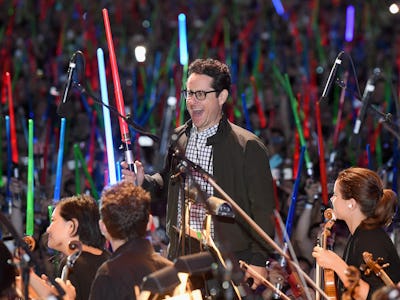 Comic-Con International, Lucasfilm
Some Star Wars fans are attempting to cause a disruption in the Force, passing around a petition that demands Lucasfilm remove director J.J. Abrams from Star Wars: Episode IX.
What Happened
Episode IX director Colin Trevorrow parted ways with Lucasfilm only to be replaced on Tuesday by Abrams, who kicked off the latest trilogy with Star Wars: The Force Awakens.
Abrams' Star Trek reboot in 2009 was a box office smash, but that didn't stop fans from grumbling about the changes he made to canon. Many of those complaints seemed to spill over to Star Wars fans disliking The Force Awakens.
Now, their fanboy rage has bubbled over into a petition calling for Lucasfilm to remove Abrams from Episode IX.
Star Wars fans abroad were upset with the result of J.J. Abrams' directing of Star Wars Episode VII: The Force Awakens. Although not reflected in the box office sales, most fans agree that Abrams' vision for Episode VII resulted in a rehash of Star Wars Episode IV: A New Hope. There was virtually no creativity, and no risks taken. Such complacency cannot be the trajectory of this sequel trilogy. More specifically, the metric for success in a Star Wars movie cannot be box office sales. Lucasfilm and Disney need to listen to fan criticism. Star Wars fans deserve better. They demand better.
At the start of the new sequel trilogy, beginning with The Force Awakens, Lucasfilm and Disney promised a new director for each movie to promote a fresh new vision on every installment. With the hiring of J.J. Abrams to direct the upcoming Episode IX, Lucasfilm and Disney have both reneged on this promise.
Therefore, to prevent Star Wars Episode IX from becoming yet another rip off of the original trilogy (specifically, a rip off of Star Wars Episode VI: Return of the Jedi), and for the good of the Star Wars brand, we demand that Kathleen Kennedy replace J.J. Abrams as director of the upcoming Episode IX film.
What It Means
Fans — and especially Star Wars fans — like to get angry about the supposed sanctity of things. And while fans are more than welcome to their opinions about the things they love, it's good to keep in mind that such a small section of the fandom loudly demanding something doesn't equate to much.
What's Next
Probably nothing if we're being totally honest here. As of the writing of this article, the petition had gathered 11 supporters, making it a fringe movement at best. Some fans will likely continue to complain online about the change and Abrams' affinity for lens flares, but things should remain consistent from now on unless something else goes horribly wrong.
Abrams will direct Episode IX.
Star Wars: Episode IX premieres in theaters on December 20, 2019.
If you liked this article, check out this video about sex (or lack of) in Star Wars.