Who Will Win Buffalo Bills vs. Carolina Panthers? A.I. Predicts
Cam Newton continues his recovery from injury.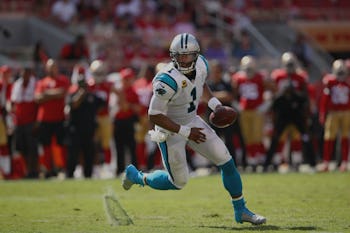 Getty Images / Ezra Shaw
The Carolina Panthers are trying to get back to their Super Bowl-worthy form of 2015. The Buffalo Bills just want to make the playoffs for the first time in 17 years. Both took the right first step with wins last week, but who will emerge victorious in their game on Sunday? A hive mind of more than 40 NFL fans is solidly behind the Panthers to win at home.
The health of Panthers star quarterback Cam Newton remains the big unanswered question for the game. He missed the entire preseason after shoulder surgery and looked limited at times in last week's victory over the San Francisco 49ers. Newton wasn't a full participant in Thursday's practice. He figures to play, but his ability to execute — he's said his timing is still a work in progress — could go a long way toward deciding this one.
Subscribe to the Inverse newsletter. Trust us, we're from the future.
To predict the result of this and other games, Unanimous A.I. used what's known as swarm intelligence to forecast the week's slate. More than 40 NFL fans worked together as a hive mind to make picks. As you can see in the animation below, each participant controlled a little golden magnet and used it to drag the puck toward the answer they thought was the most likely outcome. As the users saw the puck move toward a particular outcome, it triggered a psychological response. They readjust their decision-making, building toward a consensus.
Unanimous A.I. has made some scarily accurate predictions in the past using swarm intelligence, as our previous article explains.
The hive mind has little doubt the Panthers are going to win this one, with the only question being how sure they were in their pick. If there were a "medium confidence" option, the swarm would have made a beeline for it, but the collective intelligence ultimately played it safe and said they were only somewhat confident of a Carolina win.
Similarly, the hive mind wasn't at all sure what to do with betting on this game, especially when the Panthers are favored by a bit more than a touchdown. After a lot of hesitation, the swarm again gave its tepid backing to the Panthers, but with a measly 62 percent of its collective brainpower behind the pick.
The game kicks off Sunday at 1 p.m. Eastern on CBS.
If you liked this article, check out this video of Bob Ross (and his "happy little trees") as seen through Google's DeepDream A.I. program.