PewDiePie Slammed After Outburst: 'Worse than a Closeted Racist'
The YouTuber used a racial slur during a live broadcast.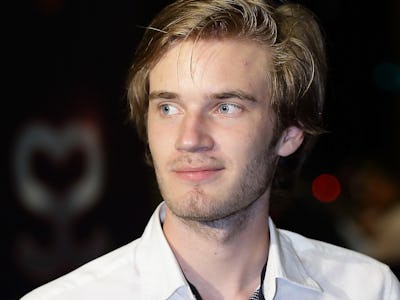 Getty Images / Suhaimi Abdullah
YouTube star PewDiePie has come under fire for using a racial slur during a livestream play-through of Playerunknown Battlegrounds. The video game broadcaster, real name Felix Kjellberg, is the most popular figure on YouTube, with over 57 million subscribers to his channel.
In the video shared on Sunday, PewDiePie used the N-word to describe another player. Soon after, he said: "I don't mean that in a bad way."
It's not the first time the YouTuber has been criticized for offensive jokes or comments. In February, Disney severed ties with the star after he paid people to make a video featuring a sign that said "death to all Jews." A Wall Street Journal investigation found nine videos over a six-month period that included antisemitic jokes or Nazi imagery.
Members of the gaming community immediately responded to PewDiePie's latest outburst, with the co-founder of game developer Campo Santo stating that it would file a copyright claim to remove PewDiePie's videos of the company's game Firewatch.
Watch the incident here:
Sean Vanaman, co-founder of Campo Santo, said on Twitter:
We're filing a DMCA takedown of PewDiePie's Firewatch content and any future Campo Santo games. There is a bit of leeway you have to have with the internet when u wake up every day and make video games. There's also a breaking point. I am sick of this child getting more and more chances to make money off of what we make.
He's worse than a closeted racist: he's a propagator of despicable garbage that does real damage to the culture around this industry. I'd urge other developers & will be reaching out to folks much larger than us to cut him off from the content that has made him a milionaire. Furthermore, we're complicit: I'm sure we've made money off of the 5.7M views that video has and that's something for us to think about. Lastly: I love streamers. I watch them daily and we sent out over 3000 keys to professional and amateur streamers of FW.
Video game journalist Mark Brown noted that a number of gamers have actually come to PewDiePie's defense:
Matt Lees, another YouTube video game personality, noted that the YouTube community discourages other personalities from speaking out against such behavior:
"Laughable to see cowards defending the use of racial slurs by saying "it means nothing" to young ppl, at a time when nazis are marching," Lees said on Twitter. "There are no hot-takes here, no wiggle room. It's just inexcusable. Anyone who says different is an idiot, a coward, or an opportunist."