Video of Storm Chaser Testing Irma Wind Shows Nature's Force
And possibly man's stupidity.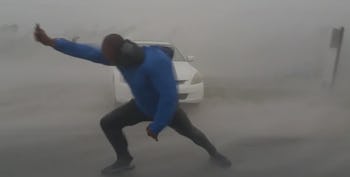 Early Sunday morning, as the full force of Hurricane Irma began to touch down upon Florida, two risk-taking meteorologists were out in the Saddlebunch Keys east of Key West, testing wind its speed.
"Measured 117 mph on handheld anemometer, which under samples actual speed; much higher wind speed," wrote meteorologist and journalist Simon Brewer on Twitter.
Brewer took a video of his colleague, Juston Drake, holding up a wind gauge and attempting to stand up while the wind whipped around him. After being posted Sunday morning, the video quickly went viral — which makes sense because it's crazy.
Drake is clearly just barely managing to stand, as horizontal winds push him backwards, knocking off his googles.
A self-defined storm chaser, Drake is based in Moore, Oklahoma and is a contributor to the site, Stormgasm. The site is manned by a group of meteorologists (including Brewer) who track and publish photos and videos of extreme weather events. Drake has a degree in meteorology from the University of Oklahoma, and has been featured on two storm chaser shows on the Weather Channel, Tornado Road and Storm Riders.
The Saddlebunch Keys are a series of mangrove islands about seven miles east of Key West. As a Category 4 hurricane, Irma is the strongest hurricane to hit the Keys since 1960. It's a highly dangerous weather situation and all residents have been strongly urged to evacuate.
By Saturday afternoon Irma had come ashore again, this time as a Category 3 in Marco Island, and is expected to move up the Florida west coast Sunday evening and into Monday.