Everyone is Scared of Everything After Seeing 'It'
Clowns, red balloons and storm drains strike fear into movie-goers.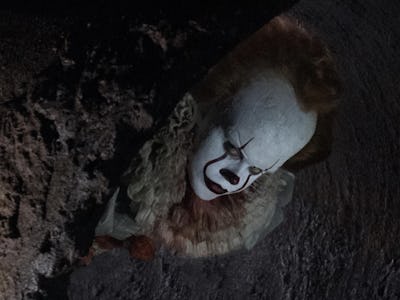 Warner Bros. Pictures
It, the killer clown movie to end all killer clown movies, broke the box office over the weekend, with a projected earning of over $100 million domestically. It was the biggest opening for a horror movie ever and the highest September opening of all time.
The story, based on the Stephen King novel of the same name, follows a group of kids who take on a murderous evil entity that manifests as a seriously disturbing, sewer-dwelling circus clown. The tale, which was made into a TV movie in the early '90s, has struck fear into the hearts of kids (and adults) for decades.
By the looks of things the latest iteration measures up, and if that wasn't enough, it seems that the latest film's popularity has transcended the cinema and moved out into the real world.
Freaked out — and amused — observers took to Twitter over the weekend to document the sudden rise in red balloons tied to drain holes in their home towns, and much, much more.
First of all, there was this fucking guy
And red balloons all over the damn place:
Pranks aside, the film sufficiently scared most movie-goers
It was also funny
And even after playing Pennywise, everyone still has a (weird) crush on Bill Skarsgård
It is in theaters now.