From 'Justice League' to George Reeve: All of Superman's Suits
A history of the Man of Steel's super-costume.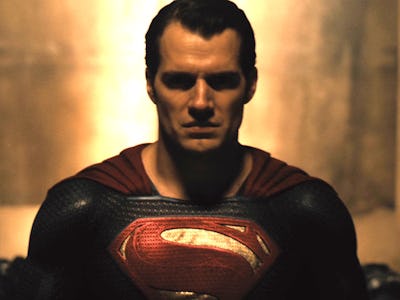 In Justice League, Henry Cavill's Superman sports the same muted-blue and red costume he had in Batman V Superman and Man of Steel. He didn't, however, rock the slick blue and silver suit from the comics. In the comics, Superman's costume changes a lot.
Creators Joel Shuster and Jerry Siegel modeled Superman's costume off traveling circus strongmen, professional wrestlers, and magazine fitness models that Shuster — at the time a body building enthusiast — aspired to look like. And that aesthetic has translated into what the Man of Steel wears on film, too.
Beginning with Kirk Alyn in 1948, a number of chiseled actors have donned the cape and tights to become the Superman of the screen: Christopher Reeve, Dean Cain, Tyler Hoechlin, and in the current DC movie franchise, Henry Cavill. With Justice League now in theaters, here's how the Man of Steel's threads have evolved over seven and a half decades.
As fans barrel towards Justice League this November, it's time to take an exhaustive journey of Superman's costume and how it's evolved throughout the last 70-plus years.
Kirk Alyn Lays the Groundwork
In 1948, Kirk Alyn became the first actor to play Superman in the live-action film serial, simply titled Superman, as well as the 1950 sequel Atom Man vs. Superman. In a retrospective interview with Starlog in 1977, Alyn recalled his audition, in which the producers wasted no time trying to see how he'd pull off the suit. "When I got down there, they stared at me and said, 'Yeah, he looks like Clark Kent, but let's see what he looks like with his shirt off,'" Alyn remembered. "Fortunately, I was in good shape at the time."
Then it was time for business. "'Kirk,' the guy said, 'take your pants off.'" When Alyn hesitated, he was told: "Look, Kirk, you're gonna have to wear tights in the movie. I have to see what your legs look like." The audition took about 15 minutes.
Because it was 1948, Superman's costume — made by the prolific Western Costume in Hollywood — wasn't terribly complex. It was made up of wool with a short felt cape and leather boots (which had laces, unlike the comics). Alyn's sleeves were also ribbed at the cuff, giving his costume a cozy Christmas sweater feel. But ultimately, it all worked, because the suit was fitted to Alyn's very fit frame, which made moviegoers believe he really was Superman.
Interestingly, Alyn's costume was also in gray, brown and yellow colors due to the black and white film stock. This color scheme repeated for George Reeves's foray as the character on the mega-popular television series a few years later.
George Reeves Takes Flight
Much like Kirk Alyn's costume, George Reeves was also outfitted in wool and muted colors to shoot in black and white. But Reeves received a few neat upgrades. Most notably, Reeves's boots zippered at the back, which made him truly look like a superhero instead of, say, a circus wrestler.
Reeves also required an inner layer in the suit to give him a more muscular appearance. While Kirk Alyn was in great shape, Reeves needed a little assistance to become a man of steel. So Robert Maxwell, the show's producer, had a t-shirt outfitted with rubber "muscles" that Reeves wore under his costume. Reeves would wear this throughout the TV show's lifespan.
In 1954, when The Adventures of Superman changed to color, a new costume was commissioned to better resemble the comic books kids picked up at the grocery store. For the first time, Superman could be seen in glorious blue, red, and yellow.
Christopher Reeve: Truth, Justice, and the American Way
The late 1970s were a pretty cynical time, especially for America. It's for that reason that the slavish recreation of such an old fashioned costume is all the more astounding.
When Christopher Reeve was chosen to bring Superman to life on the big screen, outfitting him became a challenge: How can a hokey costume look handsome? The task fell upon the shoulders of Yvonne Blake, the legendary costume designer who won an Oscar for 1971's Nicholas and Alexandra. To create Superman, Blake designed a suit, made of flexible German fabric (it absorbed sweat!) and was made by Bermans and Nathans in London.
In a 2013 event at the Fashion Institute of Technology, Blake said of the costume:
"The only research necessary was the comic itself. The costume obviously could never be changed. It was a question of reproducing what looked like a pretty silly costume into one that would be worn by an actor that look attractive and believable to Superman fans. It was important that the tight and shorts wouldn't look like belly dancer's, so the bumps and lumps were solved by wearing a plastic projection shield normally worn by boxers. I tried to make the costume appear as seamless as possible, trying to hide all the fastenings and stitchings where possible. The boots were zipped up at the back with velcro to conceal it."
Superboy's Small Screen Adventure
On the 50th anniversary of Superman's creation, Superman film producers Ilya and Alexander Salkind took the superhero to the small screen with Superboy, which later became known as The Adventures of Superboy. A prototype to Smallville,Superboy followed a young, college-aged Clark Kent who was just getting a grasp of his powers.
Initially played by John Haymes Newton before being replaced by Gerard Christopher, "Superboy" wore a similar outfit as Reeve did in the movies; in a 1989 Revue article, Superboy's costumes were created by those who had worked on the movies, so the TV show was "able to reproduce the look, with some adaptations." The leather boots were the single most expensive thing to create at $250 per pair.
Nine different suits were created by Disney's famed Creative Costuming studio; Superboy, being the first series filmed at the then-new Disney/MGM studio, made use of its legendary resources.
In a 2016 auction, the costume was described as having an "embroidered" shield on back of the cape, as well as "Red trunks and vinyl belt w/applied belt buckle" along with "tall red leather-like boots that have zippers in [the] back." It seems George Reeves's legacy lived on, even in Superboy.
Dean Cain's Dashing Look
Most superhero TV shows today attract a teen/young adult audience. But from 1993 to 1997, ABC aired Lois and Clark: The New Adventures of Superman, a primetime drama that emphasized Clark Kent and Lois Lane's contemporary adult lives. Because it attracted an audience who grew up watching Christopher Reeve, Dean Cain's portrayal had to be as timeless, which once again meant a suit that shouldn't mess around. But a few modern alterations were made as Superman entered the 21st century.
Created by Warner Bros.' own wardrobe department, Cain's suit had the longest and heaviest cape in Superman history at that point (remember that picture of Teri Hatcher?). Dean Cain's suit was also made of spandex, unlike previous costumes which were made of wool or leotard. The spandex helped prevent wrinkles and sweat stains, but that also meant Clark Kent had to be in supreme shape. Luckily, Cain stepped up to the challenge.
Also because of the spandex, Cain's costume had a distinctly vivid shades of blue and red, which really made this iteration of a romantic Superman pop out. Another change came in the boots, which had a "peak V" shape instead of the "inverted V" of previous boots.
To top it off, Dean Cain modernized Superman's look by ditching the kiss-curled haircut and opted for a gelled-back cut. Hey, it was the '90s.
Tom Welling Blurs History
Indisputably the least "Superman" costume in history, Tom Welling's vigilante "Blur" for the WB/CW series Smallville were designed by Melanie Williams, who went on to design costumes for Continuum and the CW's Arrow. Because the show's producers were adamant about telling Clark Kent's story, and not Superman's, Welling never suited up in the iconic costume.
Still, Welling's Blur is one of the easiest, and most comfortable, Halloween costumes anyone can pull off. In Season 9, Welling wore his first "costume": a black t-shirt bearing the House of El underneath a black trench coat with black jeans, and black boots. It wasn't the first time Superman wore black, but this was quite the trip to Hot Topic.
In the final season, Welling exchanged his trench coat for a short red leather jacket, where the House of El emblem was imprinted.
Brandon Routh "Returns"
In the middle of Tom Welling's reign as Superman on TV, a different Last Son of Krypton "returned" to the big screen in Bryan Singer's Superman Returns. A direct sequel to Richard Donner's Superman II, Louise Mingenbach (who later designed costumes for The Hangover and the X-Men sequels) knew she had to stay true to the classic costume while modernizing the Man of Steel for a post-9/11 era.
Mingenbach started by removing the yellow diamond of the "S" on the cape, because you could never quite make it out while Superman was in motion. "It ends up looking like a weird kind of 'thing' on the back," she said in an interview. "It just ended up never looking pristine and beautiful. It always looked like a kind of a mass on the back."
Mingenbach added:
"I mean the thing about this suit is that it's so simple, it's nice to have some things that kind of give a little something to look at which is why we printed this suit with a little bit of a texture, why we did this seam on the trunks, why we gave texture to the S, why we gave a texture to the cape. It's all sort of things to kind of give it kind of dimension. And again the style lines which is something to kind of catch your eye."
Mingenbach further elaborated on the costume in a 2006 interview with CBS News, in which she described the suit as "high-tech, ultra-thin" and made of a spandex blend called Milliskin. The material was like "sheer, seamless tights" Mingenbach compared to women's pantyhoses. "If you hold them up to the light, you'll see through them," she joked.
Other major changes include Superman's red boots, which bore the "S" on the soles and the heels. Another small "S" was on Superman's yellow belt, a decision ordered by Singer himself. Meanwhile, the cape, which was made in France, was specially milled wool with a latex base in order to prevent wrinkles and seams.
Finally, the most important piece of the Superman costume, the chest emblem, wasn't sewed. Instead, it was its own piece molded with flexible urethane rubber, which molded well to Routh's shapely pecs.
Henry Cavill, a Man of Steel
The same year Michael Wilkinson won an Oscar for costuming American Hustle, Wilkinson also had to outfit Superman's foray into a new universe in 2013's Man of Steel. Under direction from Zack Snyder, Wilkinson rewrote the playbook by crafting a Kryptonian bodysuit weaved with multiple layers, including thin mesh, chainmail, and foam latex. The red trunks were dropped in favor of a complex web design that extends around the ribs, ensuring Henry Cavill's Superman outfit as one of the most complex suits to date.
"There's an under-layer of sculpted detail mounted onto a bodysuit," Wilkinson told Clothes on Film. "We wanted to evoke a 'man of steel' — so our metallic finish has an ambiguous quality, as though it's an alien metal/armour unfamiliar to us on Earth. We wanted our Superman to glow on screen, to create a texture that the camera loves, and make him stand apart from the human race."
Snyder's vision of the DC Universe has a distinct medieval motif, which can be seen in the designs for Batman, Wonder Woman, and Superman, who has a chainmail texture not present in previous costumes. "I incorporated the design elements of the suit into all the Kryptonian clothing," Wilkinson explained. "I included the chainmail layer into their costumes, designed glyphs for all Kryptonians (which they wear like heraldic family crests), and integrated the cuffs, textures, and other details of the hero suit into their clothing. This approach made us favour a steely, more textural suit than previous incarnations."
Divisive among fans was the muted colors of Henry Cavill's costume, which fit Snyder's gritty tone but zapped away a sense of hope and optimism. Wilkinson defends these choices, saying they helped ground Superman in a contemporary reality.
"We wanted the film to really impact on our audience, to ground it in our world rather than a stylized 'comic book' version of our world," he said. "We wanted to make people wonder 'What would it really be like if we discovered an alien being amongst us?', and so we created a realistic, gritty, contemporary tone for the film."
Tyler Hoechlin is a Super Cousin
In 2016, a new Superman entered history to help out his super cousin, Supergirl. In Season 2 of Supergirl, Tyler Hoechlin (Everybody Wants Some!!) donned the tights of Superman in a distinctly unusual variation. Our requests for interviews with the Supergirl designers went unanswered, but we can safely infer information based on how the titular superheroine was designed.
"It's called Eurojersey," said Colleen Atwood, designer of Supergirl, in a 2015 interview with Vulture. "It has a four-way-stretch quality, which is good for action." As for the cape, Atwood said she "made an undersuit that zipped up beneath her costume" which helps "holds her cape in place. The weight of the cape isn't pulling the costume around on her body, so it balances a lot better for action scenes."
Things may have been different for Hoechlin's suit, however. For starters, his cape is attached via two shoulder attachments, something never before seen in live-action. Additionally, in the tradition of Man of Steel and the current comics, Superman's red trunks have disappeared in favor of a straight red belt.
Justice League will be released in theaters on November 17.