Next Arrowverse Crossover Will Focus on Supergirl and Her Sister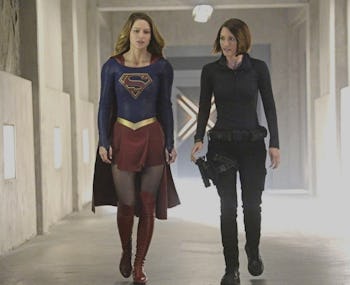 Warner Bros. Television
The big, four-show crossovers are usually a highlight of each season of the Arrowverse, but last year's big event, Invasion!, was a big underwhelming for Supergirl fans. The crossover hardly had anything to do with her, taking up only the last minute of one Supergirl episode and leaving all of her supporting cast out of the action. Well, Kara won't be flying solo in the next one.
Entertainment Weekly reports that Kara and her adoptive sister, Alex Danvers, "are at the center of it through all four hours," according to Executive Producer Andrew Kreisberg.
"One of the things we've been doing a lot this season is getting back to Season 1 and really making it Danvers sisters-centric, so a lot of what's going on this season is Kara and Alex doing things in tandem, and the crossover won't be any different," he continues, which lines up with earlier comments that the crossover would be more character-based than the previous one.
During Invasion!, the episode of Supergirl that was billed as the start of the crossover hardly counted. After wrapping up a totally self-contained plot, the episode ended with the Flash popping into Kara's universe and telling her he needed her help. The alien fighting all took place in The Flash, Arrow, and Legends of Tomorrow, and none of Kara's supporting cast took part.
Supergirl (and Alex) will kick off upcoming crossover event on Monday, November 27, which will be followed by Arrow, which is moving to Monday for the occasion. The Flash and Legends of Tomorrow will finish up the crossover on November 28.