Rian Johnson Could Direct Back-to-Back 'Star Wars' Episodes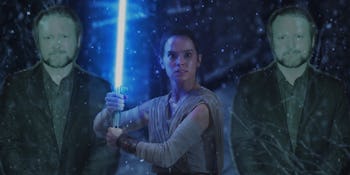 Lucasfilm/Getty Images
On Tuesday, Star Wars fans felt a disturbance in the Force when Colin Trevorrow (Jurassic World) had officially stepped down as director of Star Wars: Episode IX. But now, the 2019 film may have found a new director in a returning Rian Johnson, who just finished writing and directing Star Wars: The Last Jedi that will be released this December.
Although an announcement has yet to be formally made, a report from Deadline is indicating that it's very likely Lucasfilm will re-enlist Johnson for Episode IX, after what seems to be a very positive collaboration throughout The Last Jedi. Recently, Johnson had unseen creative control over the upcoming Star Wars film, due out in theaters this December, with both solo writing and directing credit to his name.
Star Wars is not immune to typical Hollywood collaboration. Even creator George Lucas had a number of co-collaborators, including Jonathan Hales, Lawrence Kasdan, and Carrie Fisher, who did extensive script doctoring on multiple films including The Phantom Menace, Attack of the Clones, and even Johnson's The Last Jedi. But before Johnson, only Lucas has ever had sole writing/directing credit on a Star Wars movie, which makes Rian Johnson a compelling choice to cap off the new trilogy.
Star Wars: The Last Jedi will be released on December 15.
This story is developing.