"Go-To Tech Guy" Rush Limbaugh: Hurricane Irma is a Liberal Conspiracy
"I've found, folks, these storms, once they actually hit, are never as strong as they're reported."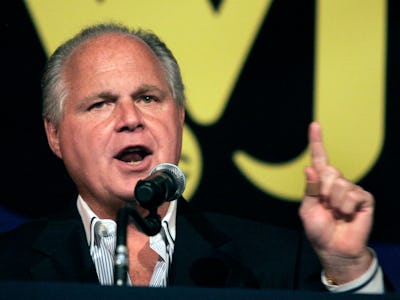 Getty Images / Bill Pugliano
This week, conservative radio talk show host Rush Limbaugh told his millions of listeners on XM Radio that he believes Hurricane Irma is a liberal conspiracy.
Citing the fact that he is "the go-to tech guy" at home and at work, Limbaugh proposes that bottled water companies may be profiting off the reported emergency preparations surrounding Irma, a Category 5 hurricane currently slamming the Caribbean Islands and barreling toward Puerto Rico.
"The local media [in Florida]," Limbaugh said, "reports in such a way as to create the panic way far out, which sends people into these stores to fill up with water and to fill up with batteries, and it becomes a never-ending repeated cycle." According to Limbaugh, who assures his listeners on air that he is not a meteorologist, the storm will not be as severe as reports are indicating, and that companies like Home Depot — which he gleefully refers to as "Basement Depot" — stand to profit a great deal from inflating stories about storm coverage.
The idea that some companies profit from natural disaster preparation and recovery isn't exactly a novel one. In 2015, The New Republic analyzed profits and losses in New Orleans following the wrath of Hurricane Katrina, concluding that low-income citizens had been hit the hardest. Wealthy owners of contracting companies were actually the people to profit from the city's efforts to repair and rebuild.
In October 2016, CNBC included Home Depot on its list of companies which typically profit from natural disasters, but the publication didn't go so far as to suggest that hardware stores were colluding with meteorologists and "Big Water" to exaggerate Hurricane Irma's strength and share the resulting wealth. That claim is Limbaugh's own.
Later in the segment, doing an impression of a newscaster covering the impending storm, Limbaugh said, "Big hurricane coming, oh, my God! Make sure you got batteries. Make sure you got water." He might have been referring to some of the language used by the National Hurricane Center to describe Irma. The Center announced on Tuesday, following Limbaugh's broadcast, that Irma will hit the continental United States at a speed of 155 knots. According to the center, that's "the strongest hurricane in the Atlantic basin outside of the Caribbean Sea and the Gulf of Mexico in the NHC records." Regardless of whether Limbaugh believes that fact will benefit water bottle companies, it's still a fact.
In his broadcast, Limbaugh then accuses "official meteorological circles" of politicizing their statistics on Hurricane Irma, and mocks analysts who have publicly considered what Irma means regarding climate change. Limbaugh, like President [Donald Trump](https://www.inverse.com/topic/donald-trump), believes that climate change is a liberal conspiracy, and that's not a fringe stance for conservatives. In fact, only 18 percent of registered Republicans told a recent Gallup poll that they "worry a great deal about climate change", although, interestingly, 59 percent of people in the same poll, and in both parties, said the environment should be prioritized in American legislation over energy production tactics (such as drilling for oil).
Limbaugh ends his segment by urging his listeners to "look at graphics" online, explaining, "it's amazing that the actual wind speeds are never or very rarely as high as what they would be if it's genuinely Category 4, Category 5." He sums up his argument by saying Hurricane Irma is simply a bloated, hyped up marketing tactic for Home Depot and those touting a liberal agenda and arguing for environmental legislation, adding, "The whole thing is not 30 inches of rain [..] but the graphics have been created to make it look like the ocean's having an exorcism."
To track Hurricane Irma, follow the Weather Channel's interactive map, which is updated regularly.
One high-profile meteorologist, NBC's Al Roker, came out against Limbaugh on Tuesday: "He is putting people's lives at risk," Roker commented on Twitter.
See also: How to Spot Fake Viral Images from Hurricane Irma As They Appear Online