It Turns Out It's Really Hard to Make the 'Tesla of Electric Bikes'
The second generation bike is about to start shipping.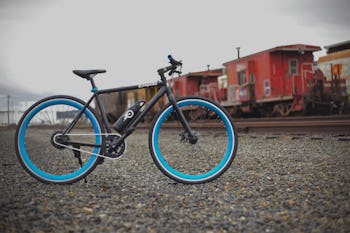 Propella
Behyad Ben Tarassoli has been waiting for this day for a long time. When he founded Seattle-based Propella eBikes, his plan was to make the sort of electric bike that maybe Apple or Tesla would make, one that oozes quality. Unfortunately, when the startup shipped its first bike last year, it didn't quite reach that standard.
"The first one, what we were trying to do was create the Tesla of electric bikes," Tarassoli tells Inverse. "With just Indiegogo [crowdfunding] and a supplier, I wasn't able to achieve that. The 1.0 was delivered on time, pretty good feedback, no problem…but I wasn't satisfied. I really wanted to go back and change things."
With the company's second-generation bike, the Propella 2.0, he seems to have achieved that goal. The Propella 2.0 has an electric motor around its rear hub and a 6.8Ah Panasonic battery mounted on frame's the downtube. Operation is as simple: pedal as normal, then press the throttle on the handlebars to start accelerating, or choose from five different levels of pedal assist to make rides easier. It goes up to 18 mph with a range of 40 miles.
"Now it's at the point where I can truly call it a flagship product," Tarassoli says.
The bike has a 250 watt Bafang brand hub motor, the most commonly available on electric bicycles. It's a reliable, efficient motor that's also lightweight. The motors make a whirring, humming sound as you ride
The bicycle hit its $100,00 Indiegogo funding goal, and shipping to the Seattle port started earlier this month, and customer deliveries will begin by the end of the month.
Tarassoli seems to have done what he set out to do: create a sleek, lightweight pedal bike with an electric motor attached.
"2.0 truly feels like a traditional bike due to its lightweight and weight distribution," Tarassoli says. "We're attending a few shows in the next few months including the LA Auto Show."
Tarassoli, who describes himself as an "engineer/musician/photographer," says he was drawn to the idea of building an electric bike for a simple reason: he saw a single-speed bike, loved the design and got one for himself. But in contrast with these straightforward contraptions, all the electric-powered bikes he found were kind of ugly. He tried adding an aftermarket kit to his single-speed bicycle, but it was a disaster.
"This electric bike kit was so clunky that adding it to my single-speed bike was impossible," Tarassoli says. "I ended up adding it to my hybrid bike, which could still handle it, and I started riding it…and that was the moment where I was like, 'we can do better than this.'"
In 2012, Propella was born. Tinkering in his garage, he created a prototype single-speed electric bike, the sort he wanted to see on the road. A friend of his got him in touch with a "mechanical engineer/bike enthusiast," which in turn put him in touch with an overseas supplier that could manufacture the bike in volume. From there, the team decided to push the button and launch a crowdfunding page.
"I just loved the idea of crowdfunding, I always wanted to do some sort of Kickstarter or Indiegogo," Tarassoli says.
It's an area that has a mixed reputation. A study from the University of Pennsylvania found that nine percent of Kickstarter projects fail to deliver. Backers of the Coolest Cooler were left aggravated by slow deliveries, with one backer threatening a class-action lawsuit. Even if they end up shipping, they sometimes run into issues: backers of the Ouya video game console expected a much higher quality product than the one that ultimately shipped.
Propella seems like crowdfunding project done right. It's shipped a product, fulfilled its backers' orders and shipped a second product based off the reputation of the first. With the second bike, Tarassoli visited the manufacturer's facility and asked for a new component in the battery lock mechanism. The request added 10 days onto the shipping schedule.
"We sent out [an] update to all backers on Indiegogo," Tarassoli says. "Most backers value transparency and product quality over on time delivery."
The original bike, which started shipping last July, accumulated over $80,000 worth of funding on Indiegogo. For the first iteration, the company offered one bike for $799. It was a single-speed aluminum alloy bike weighing 37 pounds.pa
The new iteration improves in a number of ways. It's slightly lighter, at 34.5 pounds, which the company claims makes it the lightest electric vehicle in its class. It's available in two configurations: a single-speed edition priced at $949, or a seven-speed version for a price of $1,199. The latter configuration has already sold out, and the company is taking reservations for the next batch that's scheduled to start shipping in April next year.
It's the first step toward Propella cementing itself in the minds of consumers, but while Tarassoli is proud of the company's flagship bike, he remains focused on creating that iPhone of bikes.
"Of course, we're not perfect," Tarassoli says. "Still a lot of work to do to get that level, but that is the ultimate goal. There are a lot of electric bikes out there, but I don't know a single one, especially the newcomers and crowdfunding ones, that has that quality."