John Cena's Instagram Could Be Cause of Small Bitcoin Bubble
The cryptocurrency may officially be a part of basic thuganomics.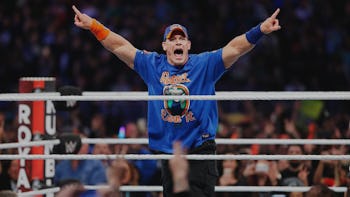 WWE
John Cena isn't just the biggest active star in professional wrestling — he's also quite possibly bitcoin's new biggest backer. At least, that's if a purposefully cryptic Instagram post from the 16-time champion is to believed.
The attention Cena just threw on bitcoin could spark a short-term bubble, but at least some bitcoin followers are hopeful the currency will come out ahead once any Cena effect wears off — which is actually a pretty good match for how his feuds with fellow WWE stars tend to play out.
Cena posted the image Thursday morning to his seven million Instagram followers. That's some huge, if enigmatic advertising for the cryptocurrency. It's not easy to estimate how many total bitcoin users there are, but one recent estimate put it around 10 million.
Let's consider the Instagram post that has the cryptocurrency world buzzing.
There's no caption on this bitcoin stock image to explain what Cena is thinking. But then, that's by design. Per his bio on the social network:
Welcome to my Instagram. These images will be posted without explanation, for your interpretation. Enjoy.
Let's take a look at how the bitcoin market has interpreted Cena's possible endorsement of the currency. Cena posted the picture at 7:39 a.m. Eastern time. Here's how bitcoin's price has done since then.
There's not a big enough caveat we can throw out here to say that correlation doesn't equal causation, but bitcoin hit an all-time high two hours after Cena's post. Not that that means anything, given the currency hits such record highs on a more or less daily basis these days. The users on R/Bitcoin are now bracing for a bubble fueled by the attention Cena's celebrity has placed on the currency.
"When a public figure take notice of bitcoin you know what it means?" noted one poster. "Small bubble, then a loss buckle your seat belts boy and buy the dip in 7 days."
Another user, however, suggested Cena's dalliance could still be a net positive for speculators. "So, buy now," they wrote. "The price now is lower than the 'dip' will be in seven days. Today we are at 4,700, it may 'bubble' to 7000, then 'collapse' all the way down to 5500. 'The best time to buy Bitcoin was a few years ago, the 2nd best time is always NOW.'"
Some short-term wins for bitcoin followed by a reversal is more or less the script for WWE superstars who feud with John Cena. Just ask wrestlers like Kevin Owens and A.J. Styles: You can get a couple early victories when working with Cena, but the man always gets his win back, and you can only hope you come out looking like a bigger deal than when you went in.
Cena has built up some money-related expertise during his time as the squared circle. Before he was WWE's love-him or hate-him all-conquering hero, he first connected with fans as a white rapper character known as "the Doctor of Thuganomics."
It's entirely possible bitcoin is just basic thuganomics.