Microsoft Confirms the Xbox One X Dashboard Will Focus on Speed
The software will run smoothly across the range.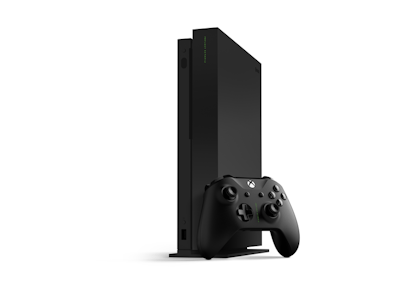 Microsoft
The Xbox One X is built for performance. In an interview on Thursday, the head of Microsoft's console division explained how the upcoming software redesign, which will be rolled out to all Xbox One consoles, is built for simplicity.
"It'll change as we listen to feedback and get more feedback from people, but we're streamlining it," Mike Ybarra, vice president of Xbox and Windows, told VG247. "Performance is always the top of the line for us in terms of what our prioritisation is."
The Xbox One X, the $499 console set to launch in November, is a high-performance version of the existing console that launched in 2013. The new version packs six teraflops of graphics performance, while the original had around 1.3 teraflops. This extra performance will make select games run with better graphics, smoother framerates, and even at 4K resolution for those that own new TVs. Over 100 Xbox One games are getting One X enhancements, with more on the way.
Microsoft has tweaked the "dashboard," the name of the user interface, several times since the console first launched. But Ybarra was quick to squash fears that Microsoft may use the extra power of the One X to add in extra bloat, which could slow down navigation.
"We've thought about this," Ybarra said. "We said… wow, when we come out with X we'll have so much more power, so much more RAM. What do we want to do? What I told the team is, we don't want to do anything."
The update removes the splash screens that show up when moving between sections. It also uses Microsoft's new Fluid Design, which adds blur effects and other subtle changes. These elements will also show up in Windows 10 through a software update set for launch in the fall.
But the team isn't done just yet. Through the ongoing beta program, Microsoft will take user feedback on board and make further adjustments to ensure the team doesn't inadvertently add any new niggles along the way.
Take a look at the new software update below: