Anheuser-Busch Brewery Sends Canned Water as Hurricane Harvey Relief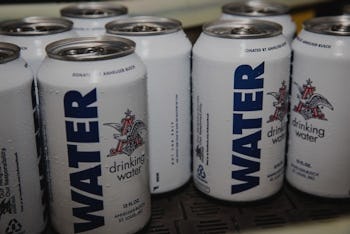 Flickr / golflikeagirl
One Anheuser-Busch brewery proved that behind the cold ones lie warm hearts when its Cartersville, Georgia location put beer production on hold in order to manufacture cans of drinking water for the victims of Hurricane Harvey.
Anheuser-Busch plans to deliver three truckloads of water, more than 155,000 cans total, to locations affected by the hurricane in Louisiana and Texas. One truck of canned water arrived in Baton Rouge, Louisiana, on Monday, and the other two trucks are slated to arrive in Arlington, Texas, on Tuesday or Wednesday, according to an Anheuser-Busch spokesperson. The beer company sent the cans at the behest of the American Red Cross, who they have "proudly partnered with for more than 100 years," according to the company's website.
The beer company has also been quick to provide aid in the case of past natural disasters, donating over 2 million cans of emergency drinking water for relief from disasters such as the California wildfires, Louisiana floods and Hurricane Matthew in 2016 alone. Since 1988, Anheuser-Busch has produced more than 76 million cans of emergency drinking water to aid in relief for water shortages resulting from Hurricane Katrina in 2005, the ongoing water crisis in Flint, Michigan and Hurricane Sandy in 2012.
So next time you reach for a brewski, it's worth considering the fact that Anheuser-Busch, unlike some other beer companies, provides apolitical assistance to communities in need.
Plus, they make Bud Light Lime.