Is Ronald Reagan the New Monster of 'Stranger Things' Season 2?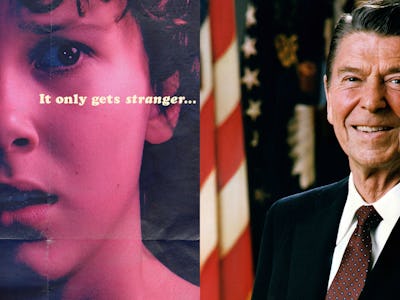 Netflix, Wikipedia
President Ronald Reagan takes a front seat in a new teaser for Netflix's Stranger Things Season 2. And as fans try to figure out how the Upside Down will manifest itself this time around — outside of plaguing poor Will Byers — maybe you should consider that Reagan is the real enemy. Is he an agent of the Upside Down?
In all seriousness, the teaser, released Saturday, is clearly referencing the importance of 1980s culture to not only Season 2 but the entirety of Stranger Things. Reagan, touted by some as one of the greatest presidents to ever live, is a key component of '80s culture, and including a speech he gave about the importance of heroes in times of need fits in pretty well with what fans are expecting of Season 2.
The Upside Down will be back and scarier than ever, plaguing the citizens of Hawkins, Indiana, and, especially, the various kids and teens involved with it in Season 1.
The official Stranger Things Twitter also released a swath of new character posters, all of which promise that "It only gets stranger." Every character looks up and to the right in fear, their faces lit by a strange, iridescent pink glow. The only character who differs from this trend is Dacre Montgomery's Billy, who averts his gaze in a way that breaks from the mold and raises suspicions.
Stranger Things Season 2 premieres on Netflix on October 27.