Elon Musk's Boring Company Photo Shows Why Car Sleds are Smart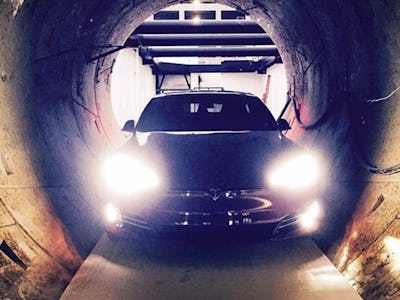 Getty Images / Bill Pugliano
Elon Musk is digging himself a hole. On Monday, the tech visionary posted an image showing the work taking place at his newest venture, The Boring Company. Founded earlier this year as a way of improving traffic by revolutionizing tunnel digging, Musk wants to help cities build tunnel networks that run several layers deep and support a variety of transport methods. Alongside metro lines and hyperloop, the company has outlined a future plan for a car transportation tunnel that moves vehicles at high speed on a sled-like platform.
Musk's latest Instagram post explains why a sled may work better than simply letting cars drive through the tunnel. In the post, the CEO shows how a Tesla Model S looks in the company's first tunnel, currently under construction in Hawthorne, California. It's clear from the start that the tunnel has a tiny diameter: it's just about large enough to fit the car itself, making turns appear tricky.
This is part of the reason why the sled is necessary. With such a small gap to move through, a car would be unable to move at particularly high speed through the tunnel, meaning it's unlikely to help much with traffic issues.
"Cars will actually be transported on automated electric sleds at ~130 mph, so no driving needed, otherwise it would definitely be too narrow," Musk said on Instagram.
The first tunnel is expected to run from Los Angeles International Airport to Culver City, Santa Monica, Westwood, and Sherman Oaks. With the tunnel sled system, this would allow passengers to move from LAX to Westwood in the space of around six minutes.
It sounds impressive, but the company will need to ensure that its passengers don't feel nauseous in the process. In May, Musk shared a video of a test sled in action, but the combination of high speeds and overhead lights meant he had to attach a disclaimer to the video explaining that it could cause motion sickness or seizures.
If successful, these smaller tunnels could lead to a wider network stretching across Los Angeles and other cities. The company has plans to build tunnel networks that run 30 levels deep, providing for a multitude of options for moving around without causing congestion.
Watch a computer-generated video of how the final tunnel sled will work below: