'Justice League' Will Explore Cyborg's Tragic Backstory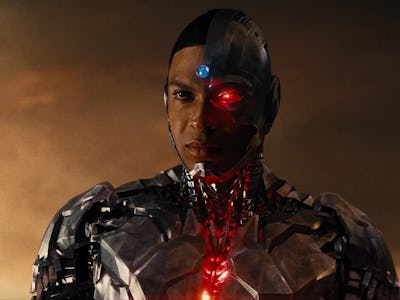 YouTube.com/Warner Bros. Pictures
When the Justice League form up this November, audiences will finally get to know one of the lesser-known heroes of DC Comics canon: Cyborg, the part-human, mostly-cybernetic superhero originally from the Teen Titans and played by Ray Fisher. Because of the general unfamiliarity towards Cyborg, it seems Justice League will allow non-comic book readers to catch up as it explores Victor Stone's horrific backstory.
In an interview with GameSpot, actor Joe Morton (Scandal) acknowledged that audiences know some characters "better than others," so Justice League will do much to explain Cyborg. "With Cyborg, and with Silas Stone, you're getting sort of the outside story," Morton said. "You'll get to know them vis-a-vis the death of Cyborg's mother. You'll get to know what Silas did in terms of reconstructing his son. You'll get to know the angst that's sort of created between Silas and Victor, his son. So I would imagine in the same sort of ways you're going to get to know the other characters.
"I think the only folks that'll know about Silas Stone and Cyborg [before the movie] are the comic book geeks," Morton added, who believes a stand-alone Cyborg movie is still in the works. "I suppose on that level they are relatively new characters to get to know and supposedly what will happen after Justice League, at some point, is there will be a movie that centers on Cyborg, so you'll get a better picture on who he is and what his life and what his whole thing is about."
In the comics, Cyborg is the new identity of Victor Stone, a former collegiate athlete whose body is ravaged by interdimensional beings accidentally unleashed by his scientist father, Silas. Although Silas and Victor have a rocky relationship, Silas works to keep his son alive by turning him into Cyborg, who has the power to control technology in all its forms.
Cyborg is one of DC's most prominent black superheroes, a fact Morton loves about the mythos. "What I love about what they've done so far, to me — especially because the character is African-American — is you get to, in a metaphorical sort of way, understand the difficulty of being 'the other,'" he said. "Cyborg, unlike the other superheroes, has no alias to hide behind. He is who and what he is. So when he walks down the street, that's who you see, and people are obviously afraid of him."
Justice League will be released on November 17.