How To Plan Your Next Solar Eclipse Vacation
It's never too early to start planning.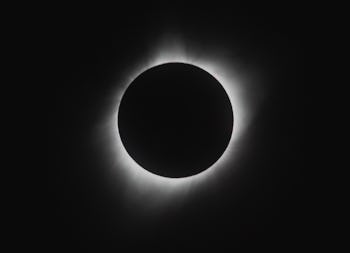 Getty Images / Jamie Squire
Whether you're a veteran eclipse viewer or Monday's astronomical phenomena sparked a newfound passion in your heart, the fact of the matter remains: you just can't get enough of what it's like when the moon completely covers the sun. You loved the solar eclipse, and you need to see another one, stat.
Well, there's good news and there's bad news. The bad news is that the next total solar eclipse visible from the continental United States isn't coming until 2024. The good news is that the United States isn't the only country in the world, and there are going to be a handful of eclipses in the meantime. From 2019 until 2024, four total solar eclipses will be visible from land somewhere on Earth.
Is it worth it?
Traveling is expensive, and traveling for an experience that's shorter than some movie trailers might sound crazy to most. But those who undertake the journey tend to rave about the experience. According to Curtis Sitz, who traveled from Texas to South Carolina to see a total solar eclipse for the first time in his life, seeing the partial eclipse don't hold a candle to being in the totality.
"The partial eclipse is like smelling the cake without eating it," Sitz said. "Seeing the sun's corona appear was staggering. Seeing Venus and Jupiter appear in the darkened sky (not black, but deep blue) at 2:30 in the afternoon is unforgettable. You can get all the eclipse photos and animations you need from the internet. Why go to Paris if you can download a Rick Steves video? I think you know why."
When asked if he plans on catching the next total solar eclipse, Sitz said he was definitely considering it. "If I would have known what I was missing, I would have made an effort to see others."
So now that we've established that a solar eclipse is required viewing, where can you catch the next one? And what can you do to occupy the eclipse-less moments that will inevitably make up the majority of the vacation? Fear not, eclipse fiends. Inverse has got you covered. Below, find the date of the eclipse and the best spot to stay in order to maximize your viewing experience.
July 2nd, 2019 / Buenos Aires, Argentina
Buenos Aires is a city with rich cultural heritage, tons of great museums, and in 2019 it's going to be very proximal to the path of the solar eclipse's totality. When they're not watching the solar eclipse, eclipse-chasers can head over to the Museo Nacional de Bellas Artes, a large art museum that doesn't charge admission, and then take a stroll through the city's historic Recoleta neighborhood and admire the architecture. And if you've got time to spare, try catching Madama Butterfly at the Teatro Colón, Buenos Aires's largest opera house.
December 14, 2020 / Huerquehue National Park, Chile
If you love traveling to see solar eclipses, there's a decent chance you also love camping, and Huerquehue National Park is a wonderful place to soak up nature's majesty while wearing chunky boots (that's why people like camping, right?). This national park is nestled in the foothills of the Andes, and as such offers beautiful views of snowcapped mountains, plenty of hiking trails, and the opportunity to take a dip in one of the park's many lagoons. It is also conveniently located within the path of the December 2020 solar eclipse's totality.
December 4, 2021 / Antarctica
Yeah. You're not gonna see this eclipse. The path of totality for this solar eclipse cuts across a wide swathe of the largely unpopulated Antarctica. The path of totality for this solar eclipse cuts across a wide swathe of the largely unpopulated Antarctica. Sorry, but come on. It's not going to happen. Be realistic. Go to [Disney World](https://www.inverse.com/topic/disney) this year instead.
April 8, 2024 / Dallas, Texas, United States
The next total solar eclipse visible from the continental United States will pass directly over Dallas, Texas, which means the city should be a serious contender for any eclipse lover's spring break vacation spot. And while in town, Dallas is also home to a world-class arboretum and a wealth of opportunities to dig into American history, like the George W. Bush Presidential Library and the Sixth Floor Museum, a museum dedicated to John F. Kennedy that's housed in the same building that Lee Harvey Oswald shot him from.
It might not be realistic to travel to all of these locales, but if you caught a glimpse of the partial eclipse and liked what you saw, traveling to catch the real deal might just be a dream vacation.