Try to Survive the Real Camp Crystal Lake This Friday the 13th
Camp No-Be-Bo-Sco is opening its doors for the fourth time this October.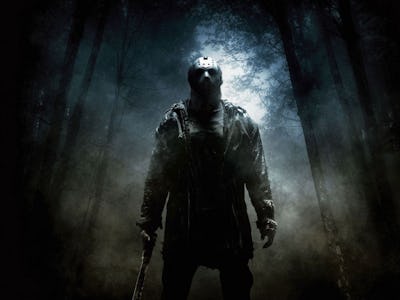 Paramount Pictures
Most die-hard fans of Jason Voorhees have never stepped foot in the real Camp Crystal Lake before. That's because Camp No-Be-Bo-Sco, the filming location of Friday the 13th that is active today for the Boy Scouts of America, is usually closed to the public. But this year, the camp will open its doors for the fourth time for a special Friday the 13th tour set to take place on, you guessed it, Friday, October 13.
On Monday, Camp No-Be-Bo-Sco announced its fourth biennial "Camp Crystal Lake Tour," a special one-day event the camp began hosting in 2011 after overwhelming demand. Since then, the tour has been held every two years, taking place every Friday the 13th in its grounds in Hardwick, New Jersey. The event will begin at 11 a.m. and end at 4 p.m., during which visitors will get to see all the locations "that have been made famous on television and film."
As exciting as it sounds to sneak around "Camp Crystal Lake" in October, fans will want to leave the masks home. As the camp outlines on its official website, the event is a movie location tour and "not some sort of haunted mansion ride." The camp urges visitors to not come in costume and to be prepared for rain or shine; because the grounds are still used by children, the camp is very cautious for the safety of its camp-goers.
While those rules may sound like a buzzkill, previous attendees for the tour have written glowing reviews, describing the experience as a "fantastic opportunity," "unforgettable," and a "great, magical time." One visitor even wrote: "Easily the best day of my life next to my son being born."
To find out how to buy tickets, visit the official Camp No-Be-Bo-Sco website.