New York Was a Magical Place During the Eclipse
Here's how people reacted in the heart of the city.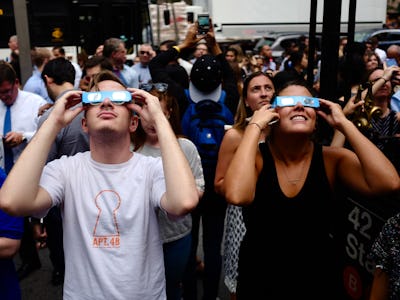 Jack Crosbie
The 2017 solar eclipse was, by all accounts, "pretty cool," "awesome," and even "mind-blowing." Those were just some of the reactions eclipse watchers in New York's Bryant Park shared with Inverse.
Those who poured into the public space in the heart of Manhattan were just some of the millions of people nationwide who took time out Monday afternoon to look at the total solar eclipse. Those in Bryant Park gazed skwywardskwyward, shaded their eyes, peered at phone screens, or clasped bulky cardboard pinhole cameras to watch the eclipse — which covered about 77 percent of the sun in New York — peek through a few scattered clouds.
New Yorkers are notorious voyeurs, but the eclipse brought people together in moments of awe. The consensus moment of awe The consensus was, "whoahh, that's cool." If you didn't have the special glasses, it was fine, because someone would lend you some, or let you use their pinhole camera, or just show you the great photo they managed to get. Here's what the eclipse watchers had to say.
Chris, cook, and Craig, TV producer
Chris, a cook at a restaurant in the Bank of America Tower, stood in the middle of the bus lane on 6th Avenue, staring at the sun through a pair of flimsy paper glasses. "Anything that lets you get outta work, right?" he said to me. "I just walked out. This is historic!"
"Can I get those again real quick? Just one more look," Craig, a TV producer in a NASA T-shirt asked the cook. Chris handed them over and Craig slipped them back on, craning his head back, face grimaced in a squint even behind the mirrored solar lenses. "This is kinda blowing my mind a little bit."
Monica and Quinn Cardenas
"This was bananas!" Monica told me. I asked Quinn if he still wanted to be an astronomer: "Yeah!" "It was so cool!" Quinn exclaimed. They came out, he said, because he wants to be an astronomer when he grows up, but this was the first major astrological phenomenon he'd seen. Quinn, 10, and his mother Monica grabbed a pinhole camera someone else had left behind and used it to check out a crescent-shaped sliver of the eclipse.
Andre, Mark, and Leo
Andre, Mark, and Leo had one of the most distinctive and probably unsafe ways of viewing the eclipse. Mark and Leo manage a co-working space together; they met Andre outside and he gave them each a strip of undeveloped photographic film to protect their eyes. I hadn't heard anything about that working, but Andre gave me a strip for my eyes too, and we stood around looking at it through the film in quick peeks for a few minutes. It was a bit brighter, and much redder than the special glasses, but seemed to work pretty well — though we won't know if we burned our eyes for a few days. Andre, Mark, and Leo stood in a line and muttered an occasional "whhhhhhho" when it peeked out from the clouds.
Joy Boone and Dawn Padmore
"Oh it was awesome," Joy Boon says when I asked her what the eclipse was like. She and a group of coworkers at Karlitz and Company, an event-planning firm, came over from their offices to check out the eclipse in the park. Dawn Padmore, however, had seen an eclipse before. When she was growing up in Liberia, a total solar eclipse passed over (Dawn doesn't remember the exact year, but she was in fifth grade, and there were solar eclipses visible from West Africa in 1980 and 1987) "The teachers brought us all into the courtyard and filled buckets with water so we could see it." But it was still pretty cool to see one in New York, she said. "One of my nieces is in South Carolina," where the totality of the eclipse passed over, she said, "So I'm waiting to get pictures from her."
Wade Trefethen
"Hey, wanna stick your head in a box?" Wade Trefethen asked me. "You can see the eclipse as a bonus!"
"Are you from Warby Parker?" I asked, because the glasses company had been handing out free eclipse shades and box viewers. "Nope," Wade said, "Someone just gave me this box, and I figured I'd hold it for people."
I stuck my head in the box. You could see the eclipse. It was pretty cool.
"It was crazy coming down here," said Wade, an artist. "This place was packed! They'd stick their heads in the box and just start screaming — 'AAH!'"
Bing Liang and Cas Jobman
Bing and Cas, two students from University of Pennsylvania, came to the city for the weekend and stayed to check out the eclipse. "It's kinda like the light at the end of the tunnel," Bing said with her head in the box Wade was holding. Cas said seeing the sun so clearly defined like that was "deceptive and confusing" — we don't typically see the sun or even think of it as a clearly defined object.
"It reminded me that there's something bigger out there. That we live next to a star."