Who's Selling Solar Eclipse Glasses? Here's a Last-Minute Guide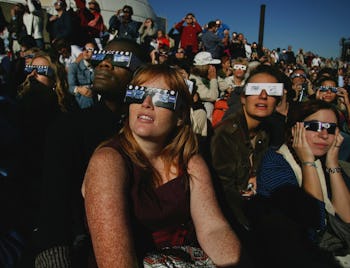 Getty Images / Denis Doyle
When the total solar eclipse hits the continental U.S. on Monday, you'll want to be prepared. For many people, it will be the first total solar eclipse in their lifetime — the last one was in 1979 — and the next continental eclipse won't be until 2045.
That being said, when experiencing this two-minute, 40-second phenomenon, you're going to want to protect your eyes. Even when it's covered by the moon, staring directly at the sun is still incredibly bad for your vision; doing so can permanently damage your retina.
With that in mind, a pair of eclipse glasses is all you need, as they're manufactured to withstand the power of the sun and allow you to stare straight up at this rare cosmic occurrence. Just remember that as we draw closer to Monday, vendors will be selling out of eclipse glasses due to high demand, so it's best to call ahead to make sure that glasses are still in stock. Also, make a point of ensuring that the glasses you grab are verified by an accredited testing laboratory and that they meet the ISO 12312-2 international safety standard; ask the vendor or check the product itself.
Based on recommendations from the American Astronomical Society, Inverse has chosen some of the best (and most accessible) places to grab some solar shades. Happy viewing!