Donald Trump Looked Directly at the Eclipse, of Course
'Don't look,' his aides screamed.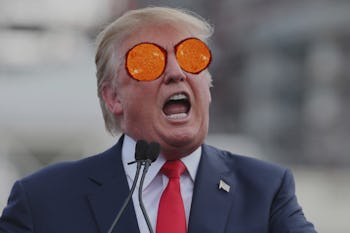 Getty Images / Chip Somodevilla / NASA
In the lead-up to the total solar eclipse that just finished making its way across the entire country, Inverse and several other news outlets like it published countless stories that all tried to drive home the same point: don't look directly at the eclipse.
Apparently, President Donald Trump thought all these stories were #FakeNews.
Ted Mann of The Wall Street Journal was present at the White House on Monday at 2:44 p.m. when the president and First Lady Melania Trump stepped out onto the Truman Balcony to view the eclipse. Although the Trumps had access to eclipse glasses that allow the wearer to look directly at the sun without literally burning their eyeballs, Trump, uh, just fuckin' went for it.
"Don't look," his aides reportedly shouted as the 71-year-old man stared directly into the sun.
Looking directly at the sun (especially when you're staring straight at it at length to try to see the moon's shadow) causes sunlight to hit your super-sensitive retinas in the back of your eyeballs. If they're damaged, the cells that make up your retinas can't heal.
Trump did eventually don his protective glasses to view the eclipse, but as NBC News footage shows, he looked straight at it again after taking them off.
Donald J. Trump is the 45th President of the United States.