Where Trump Will Watch the Eclipse
The famous balcony has been used for many public events.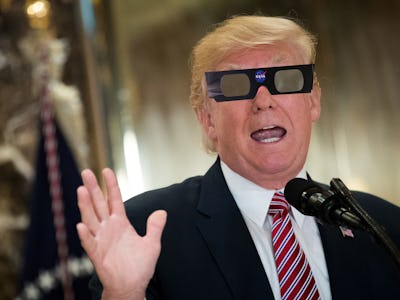 Update: Trump stared at the sun without glasses.
President Donald Trump will take in the total solar eclipse at 2:44 p.m. Eastern today with first lady Melania Trump from the Truman Balcony at the White House, according to reports.
The Truman Balcony overlooks the south lawn of the White House and sits behind the famous six columns of the building. It was completed in March 1948, when its namesake, President Harry Truman, was in office.
Trump's relationship to eclipses goes way back.
Per the New York Post:
Trump was born June 14, 1946, during a lunar eclipse. His astrological sign is Gemini but Gordon said he has Leo rising at 29 degrees on the star Regulus and Mars is in Leo.
After the news hit on Monday, the jokes were coming in thick-and-fast about the president's tendency to take credit for projects.
Trump has yet to tweet about the eclipse, but his daughter, Ivanka Trump, posted an educational graphic on Sunday that was quickly politicized. One popular reply to her tweet put it this way: "Thanks Ivanka. But we don't need your help understanding the eclipse. Perhaps you should help your dad understand what nazis stand for."