How Luke Cage and 'The Defenders' Challenge Iron Fist's Privilege
"Danny is very misunderstood in the fact that a lot of people see that he comes from money and automatically think that he's privileged."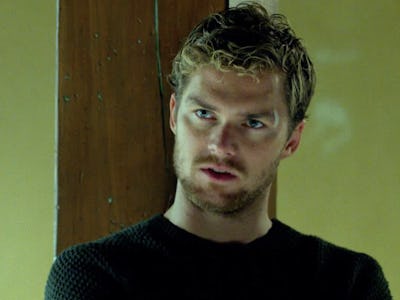 Netflix
The sleeper fan favorite character of The Defenders might surprise you: It's ya boi Danny Rand (Finn Jones).
After an origin story in Iron Fist Season 1 that was met with fan backlash and critically mixed reviews, some felt that he'd be a plot device that brings the fight against The Hand to the other Defenders but not much else. But surprisingly, Danny ends up being the glue that holds the team together, plying them with Chinese food, when Sigourney Weaver's Alexandra threatens the entirety of New York City. With the help of Matt Murdock's Daredevil (Charlie Cox), Jessica Jones (Krysten Ritter), and Luke Cage (Mike Colter), Danny managed to evolve and becomes the man — not the weapon — he was always meant to be.
Danny Rand and Iron Fist actor Finn Jones spoke with Inverse about The Defenders, Iron Fist Season 2, and what Danny's privilege really means moving forward.
How do you think Danny's interactions with the other Defenders will change him for Iron Fist Season 2?
I think throughout Iron Fist [Season 1], Danny doesn't even know what a superhero is. So, in Defenders, this is the first time he is meeting other people with abilities, and they all have their problems. They're able to go about their lives and use their abilities responsibly and with purpose, and I think this is the first time that Danny is really seeing that. It definitely helps sharpen his focus and sharpen his senses and inspires him.
It's almost like Danny's meeting some long-lost brothers and sisters for the first time. They're just equipped to tease him and punch him into walls.
At the end of the day, they're there to help mentor him and help him grow into a responsible adult that he knows he can be. Essentially, Danny has got a good heart — his motives are all in the right places, but he's young. He's a had a tough upbringing. He's got a big weight on his shoulders, and he's never really had influential figures in his life to lead him down the right path, and so he's always been a bit of a mess, very hot-headed. So, what we're seeing in The Defenders is these three people who he's come into contact with are really helping put him on the straight and narrow.
It's an intense interaction right off the bat; Luke certainly wants to put him on the straight and narrow. The scene in Episode 3 where he calls Danny out for his privilege was probably the first time Danny had ever considered that — how did you prepare for the scene in Episode 3 where Luke calls Danny out on his privilege?
I loved it — this is a very iconic relationship between two superheroes, and they're known for being BFFs. What I love that Marvel is done is that it's not just gone straight for the, oh, let's hang out and be best friends to begin with. They come in with conflicts of interest, and they made it relevant again. It's interesting to watch. I definitely think it's the first time that Danny has actually thought about his condition.
His condition being that he's inherited all this money and a multi-billion-dollar company?
I think Danny is very misunderstood in the fact that a lot of people see that he comes from money and automatically think that he's privileged. Well, actually, Danny lost his parents when he was 10 years old. He grew up in a world where he was alienated to his former life. He had a very rough upbringing for 15 years.
So, he hasn't grown up with privilege. He's come back to New York and suddenly he's got this responsibility of being the Iron Fist and owning this company and having all of this money. It's a lot for him to take; he's like a kid in the candy shop, you know? He's just trying the best he can.
He doesn't really understand the other side of the argument.
That's what I love about this interaction with Luke. It's the first time he realizes that maybe just one exchange with hitting the enemy or throwing money at the face of adversity isn't the right way to go about it. He doesn't know any better.
So, by meeting Luke for the first time, he's like 'Oh, shit.' And then, he learns there's a different way to do this. Maybe I shouldn't just go around beating people up. Up until now, he's only seen things as black and white. He's seen the problem and he's seen the solution. He's very young and he's very reckless, and usually he just either punches it or he throws money at it because he knows no better. It's a really wonderful thing when he starts to see a different side of the argument. Danny is really compassionate by nature and he's very quick to understand Luke's point of view, and he's really quick to make amends.
And how would you define Danny's relationship with Luke and the other two Defenders, Jessica Jones and Matt Murdock's Daredevil?
So, one of the first conversations I had with Marco [Ramirez, The Defenders showrunner,] was about when Danny meets these other three individuals, what does he learn from them, and what do they learn from him? That was the most important thing to me about The Defenders, and we got that across. They really helped him understand himself so much better and really give him more perspective on who he is in the world.
I guess Luke is almost like Danny's coach. He's like his counselor, kind of helps wind him down in times when he's just being a little bit out of control and pretty understanding in situations from a different perspective.
Daredevil is like Danny's older brother. He's someone that Danny looks up to. He starts to take a great deal of inspiration from him. I think he admires Daredevil. He admires — even though he's seen adversity in his life, as Danny has — that he's not letting that overwhelm him and he's not letting that get him down, and he's actually using his abilities for good and doing it in a responsible way. He really takes a lot of inspiration from that.
Jessica is like the cooler, annoying older sister who is always picking on her little brother. Even though she's always picking on him, she does it out of kindness because, essentially, Danny is the eternal optimistic while Jessica is the down-and-out pessimist. I think it's really wonderful that Danny meets Jessica, because she kind of brings it down a notch. Jessica is able to take the kids out there and try Danny and make him realize that maybe he shouldn't take himself so seriously.
How else did Danny level up in Defenders? I've noticed a lot people saying his fight style is much cooler and more confident. Did you get any more fight training in between Iron Fist and The Defenders?
None. I went from Iron Fist straight into Defenders. I had a week to turn around and that was all pretty much costume fittings, script read-throughs, and sleeping. In terms of training, really, it has been in the first season and in both of the shows. It's been on the job.
I've seen Iron Fist and Defenders as the first phase of Danny's journey. I don't really differentiate between the two, which has been a great thing for me because I've been able to play this arc of a character over a long period of time and it's allowed me to be very nuanced and slow-burning, which I've really enjoyed. We've been taking our time getting Danny into top form.
Obviously, by the time Defenders came, I'd been working on [Iron Fist] and performing the choreography for nearly six or seven months, so I'd gotten a lot more used to it. Also, we had a new choreography team [for Defenders] and we had a different cameraman. So, the way it was constructed and the way that it was directed and put together was very different, which I think also helped the show's choreography.
Now, just gonna let you know, moving into Season 2 of Iron Fist, I'm actually starting my training next week. We're at least four or five months away from shooting, so this time around, I'm being given a lot more preparation leading up to Season 2, which I think is really gonna have a huge improvement on the quality of the fight scenes in Season 2 of Iron Fist.
The Defenders is now streaming on Netflix.