'Flash' and 'Arrow' Crossover To Star 'Battlestar Galactica' Alum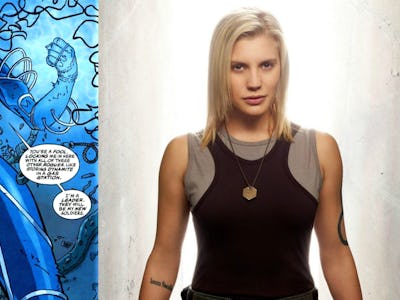 DC Comics and NBCUniversal Television Distribution
Another Battlestar Galactica alum is coming to the Arrowverse for a villainous turn.
As Entertainment Weekly reported on Monday, Katee Sackhoff will join the cast of The Flash in a recurring role as the DC villain Amunet Black/Blacksmith. She'll first appear in the fifth episode of the season, "Girl's Night Out," the show's mini-crossover with Arrow. The mini-crossover will also feature Felicity Smoak (played by Emily Bett Rickards).
In the comics, Blacksmith is the boss of a black market for supervillains called "the Network." When she divorced the supervillain Goldface, she stole the elixir that gave him his powers, and changed it to give her the ability to fuse metal with flesh.
Sackhoff joins the ranks of former Battlestar Galactica stars who have appeared in the Arrowverse in villainous roles. On The Flash, Aaron Douglas appeared as The Turtle, while James Callis played The Dodger, Rekha Sharma was a fence who sometimes worked with The Dodger, and Tahmoh Penikett was the right-hand man of crime boss Frank Bertinelli on Arrow.
Since Blacksmith will be a recurring character, it'll be interesting to see what role she fulfills in the season. Will she just pop up to send yet another metahuman after the Flash? Or will she end up having ties to the main villain of the season?
We'll find out after The Flash returns on October 10 at 8 p.m. Eastern on The CW.