'Split' Sequel Synopsis Teases Multiple Showdowns With Bruce Willis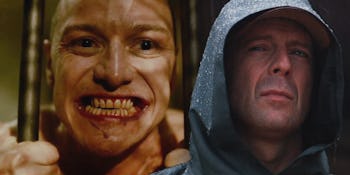 Touchstone Pictures
M Night Shyamalan's latest film Split was an unexpected smash hit — in no small part because it was an unexpected sequel to one of the filmmaker's most-beloved movies, Unbreakable. An upcoming sequel to both flicks, Glass, will bring Bruce Willis's Unbreakable hero David Dunn together with James McAvoy's the Beast, and the new synopsis promises that they'll have several faceoffs as Samuel L. Jackson lurks in the shadows.
Via Bloody Disgusting, here's the new official synopsis for Glass:
Following the conclusion of Split, Glass finds David Dunn pursuing Kevin Wendell Crumb's superhuman figure of the Beast in a series of escalating encounters, while the shadowy presence of Elijah Price emerges as an orchestrator who holds secrets critical to both men.
We already knew that McAvoy, Willis, and Jackson would be coming back for Glass, but the new plot summary helps set the stage. "Escalating encounters" certainly sounds interesting, and it's curious that the synopsis is just focusing on the Beast persona rather than the other 23 personalities that make up the Horde.
Split star Anya Taylor-Joy and Sarah Paulson will also appear in Glass, which is slotted for a January 18, 2019 release.