Post Credit Scene of 'The Defenders' Finale is a 'Punisher' Teaser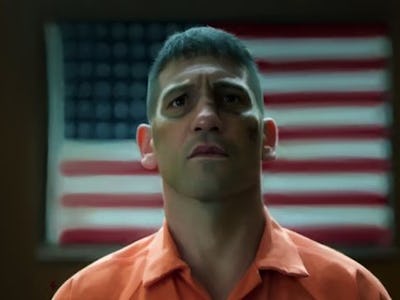 Netflix
As you binge-watch Marvel's latest superhero team on Netflix this weekend, you may be tempted to skip to the next episode the second you see the credits rolling — but don't, at least for final episode of The Defenders Season 1. Your patience will be rewarded with a brutal teaser for the next show on Marvel's slate: Punisher.
Starring Jon Bernthal as Frank Castle, the teaser features probably the most amount of words the stoic character's ever strung together on screen as a hammer crashes down into a cinderblock floor. Interspersed with Castle's one man war on the floor is a series of flashbacks: Castle killing people during his tour of duty (likely in Kandahar as mentioned in Daredevil) with the US Marines, a trip on the Staten Island Ferry with his children, the assassination of his wife by a masked military man, Castle being beaten and tortured by his unit and finally the horrifying image of his children lying dead on the floor.
"All the things that I'd done, memories, they never hurt me," Castle narrates over these quick cuts. "But the past, it's more than just memories: It's the devil you sold your soul too, and he's coming to collect," he cautions, walking away to reveal the Punisher logo bashed into the concrete.
With no premiere date just yet, but the promise of a 2017 release (most likely in November if it follows the pattern of Jessica Jones S1), fans can appease the tease of Punisher by rewatching Season 2 of Daredevil where he first appeared. Briefly teaming up with Daredevil, but truly forging a special connection with Karen Page, Punisher helped take out Nobu after dispatching the Blacksmith, one of the men responsible for the murder of his family in a gang shootout and also his former mentor in the Marines.
The last fans saw, Castle was disappearing into the night with a brand new spray painted vest of his iconic skull and a CD labeled MICRO he pulled from his home before burning it to the ground. As it was hidden in a photo of his Marine unit, it likely has more information about the corruption he discovered in his unit - including that fateful mission in Kandahar which is likely the footage we see of his unit turning against him. Another possibility is that he left to look for a Marvel character codenamed Micro — frequently depicted in comics as the Q to Punisher's Bond if Q but with significantly more blood of course.
We won't get answers to where Castle went until the show drops later this year, but until then, watch the teaser below:
The Defenders is streaming on Netflix now.