Russia Wants Nothing to Do With "The Daily Stormer' Either
Andrew Anglin's white supremacist website has been kicked off of Russia's domains.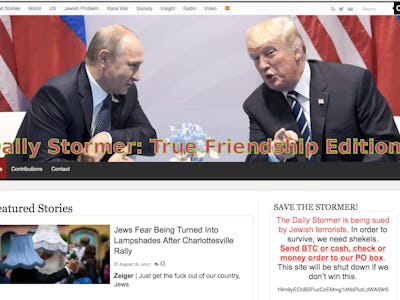 Screenshot
The Daily Stormer is once again homeless in the digital wastelands, after Ru-center, the Russian company that administers .ru domain names, booted it off the network on Thursday.
The Stormer, a violently anti-semitic and racist neo-Nazi website started by white nationalist Andrew Anglin, was cut adrift by its original website host, GoDaddy, on Monday. Google's domain name service also refused to support the website, and it was forced to move to the "Dark Web," a portion of the internet where websites are unlisted by typical search engines and usually only accessible with the Tor browser. On Wednesday, it appeared the Stormer had found a new home on the normal internet with a .ru domain — but its return to Russian-supported relevancy was short lived.
According to the Moscow Times, Roskomnadzor, a Russian media watchdog agency, officially asked Ru-center to remove support for the Stormer.
"The Daily Stormer propagandizes a neo-Nazi ideology, inciting racial, national and other social hatred," Roskomnadzor head Alexander Zharov told Interfax, a Russian state media agency.
Before landing on a .ru domain, the Stormer was also publicly cut off by Cloudflare, a US-based domain provider and DDoS-protection service on Wednesday. Cloudflare's CEO Matthew Prince told Gizmodo that he made an arbitrary personal decision to give the racist site the boot.
"My rationale for making this decision was simple: the people behind the Daily Stormer are assholes and I'd had enough," Prince said in an internal email to Cloudflare staff obtained by Gizmodo.
The Stormer's status update Twitter account has also been suspended.
This story is developing.