Elvis Presley is in 'Blade Runner 2049' But He's Not a Replicant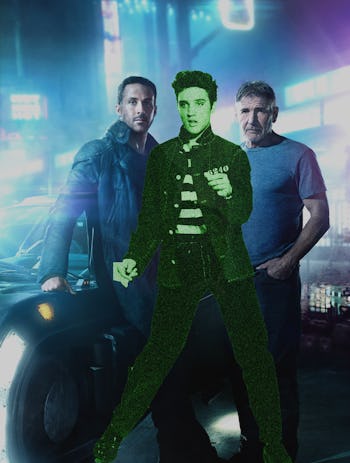 Warner Bros. and Columbia Pictures
Though Elvis Presley made a brief cameo as a holographic performer in Blade Runner 2049's first trailer, his role in the film will apparently be a lot bigger.
"You see Elvis for about three seconds in a trailer, but he's in it for a lot longer," the majority owner of Elvis Presley Enterprises, Joel Weinshanker, told Variety in an interview that went up on Wednesday. The day marked the 40th anniversary of Presley's death.
Though his holographic appearance in the film might make a strong case for it, a hologram tour in real life has not been planned.
"It's a big 'if'," said Weinshanker. "My position is that you can never create what Elvis had, which is something you can't put a finger on or describe. It's like having a computer create a great painting." Response to his extended cameo in the film could always change things.
In a time when holographic entertainment seems like it's readily available and consumed, it makes sense that legends would be brought back from the dead for a constant hurrah. It'd be odd if Elvis Presley is the only famous figure that the future still holds onto, but for the King of Rock and Roll, it wouldn't be that surprising.
But what could this mean for Blade Runner 2049? Some of the trailers have indicated that Ryan Gosling's Officer K can play the piano. In the original Blade Runner, Rick Deckard could play the piano. Will Gosling, Ford and holographic Elvis have a jam session at some point? Fans can only hope.
Blade Runner 2049 will be released on October 6.