Leaked Apple Images Reveal Long-Rumored 60-Inch OLED TV
Apple could have something big up its sleeve.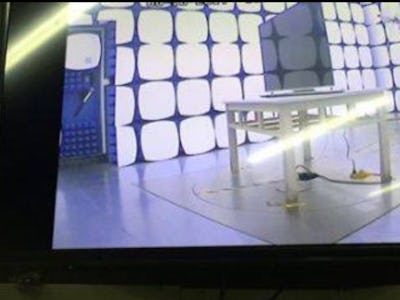 Benjamin Geskin/Twitter
A set of images posted on Twitter Wednesday suggest Apple might have a major new product in the works. An Apple television set, a project Steve Jobs claimed to have "cracked" prior to his death, might actually become a reality as product leaker Benjamin Geskin shared four images from Chinese social media site Weibo.
"Alleged Apple OLED TV testing photos," Geskin said on his Twitter page. "Metal body, thin bezel. Around 60-inch."
OLED is the big new screen technology creeping its way into Apple's product line. Although Android smartphones have used the technology for years, the Apple Watch is so far the only company product to use the screens as a primary display. Unlike LCD, OLED can switch off individual pixels to achieve truly deep black colors. The upcoming iPhone 8 is also expected to use OLED.
The television project has turned into something of an Apple legend, after it was revealed in Walter Isaacson's 2011 biography of Steve Jobs that the CEO thought he had solved the issue of television for good.
'I'd like to create an integrated television set that is completely easy to use,' he told me. 'It would be seamlessly synced with all of your devices and with iCloud.' No longer would users have to fiddle with complex remotes for DVD players and cable channels. 'It will have the simplest user interface you could imagine. I finally cracked it.'
The day Jobs stepped down as CEO on August 24, 2011, he called tech journalist Walt Mossberg and told him that although he was indeed stepping down, he was also going to stay involved in a "fantastic" television project. Jobs passed away less than two months after the call, and in the ensuing six years Apple has not announced a television set.
It's unclear how an Apple television set will differentiate itself, but analysts have theorized for years that the company would enter the marketplace. Gene Munster, former analyst for investment banking firm Piper Jaffray, had predicted since 2011 an Apple television would be "the biggest thing in consumer electronics since the smartphone." In May 2015, Munster finally reversed course, but it seems he may have been onto something after all.
Apple has taken some steps toward television domination. The company has continued to release new versions of the Apple TV streaming box, first released in 2007 that was originally designed to play back iTunes content on the big screen. The most recent version, released in 2015, introduced an App Store and support for Siri. A fifth-generation version, inadvertently revealed by Apple in a HomePod firmware update, is expected to introduce 4K resolution support. The launch of a television set may give the company's work in this area a sudden push in the mass marketplace.