You Should Definitely Try to See the Perseid Meteor Shower Tonight
You might see a meteor a minute.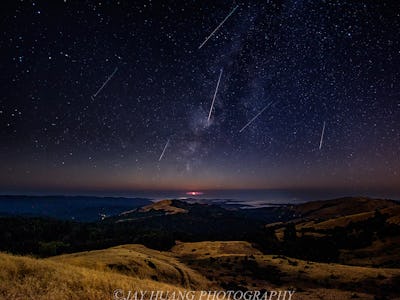 Flickr / Jaykhuang
This biggest meteor shower of the year is going on this weekend, and Saturday night is the most optimal time to see it. At its peak, the Perseids meteor shower will see about 50-60 meteors from the Swift-Tuttle comet cruise across the sky every hour. This shower is a yearly occurrence, as Earth passes through the Swift-Tuttle's tail of debris, we get an action-packed show of space dust. But like any skyward event, there are some logistics to consider in order to get the ultimate view.
Right Place, Right Time
You're in luck if you live in the northern hemisphere or above mid-southern latitudes, because you'll have the clearest view of the shower on Saturday night and Sunday morning. The best time to look up will be after midnight — aka early in the morning of August 13 — when the sky will be darkest. It's also when the Earth will be the most within the stream of Swift-Tuttle.
Because the meteors are coming approximately from the direction of the Perseus constellation (thus the name Perseid), look between the northeastern horizon and the point right above you.
Blame the Moon
Following the full moon from August 7, a rather bright waning gibbous on Saturday night could affect your ability to see the shower, impacting the visibility of about half the meteors. It won't counteract the moon, but it's still worth getting away from big city lights as much as possible — darker sky, better shower.
Or Stream it Live
If the moon is really ruining your skywatching ops, there will be a free webcast beginning at 8 p.m. Eastern Time Saturday via the online community observatory, Slooh. Earlier in the day, you can also tune into Italy's Virtual Telescope Project for a webcast starting at 4:50 Eastern Time.
Either Way, Next Year Will be Really Good
In August of 2018, the Perseids meteor shower will be pretty incredible, as the peak night for seeing it will coincide with a new moon. Still, the chance to see at least one meteor every other minute is pretty cool, so find some time Saturday night or Sunday morning to suss it out. Depending on where you are, it could definitely be worth it.