Help Inverse Predict WWE 'SummerSlam' with Unanimous A.I.
Can our hive-mind see inside the mind of Vince McMahon?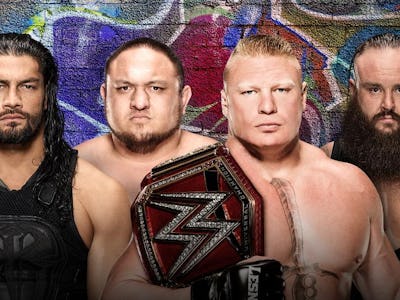 WWE
SummerSlam is professional wrestling's biggest party of the summer, as WWE comes to the Barclays Center in Brooklyn for some of the most important matches of the year. And while the results may be pre-determined, nobody but WWE kingpin Vince McMahon knows for sure what's going to happen the night of August 20.
That doesn't mean wrestling fans can't make some pretty shrewd guesses about what's going to happen at one of WWE's biggest shows of the year, and Inverse has a little something to help make those predictions even more scarily accurate. We're partnering with [Unanimous A.I.](http://unanimous.ai), a company that uses what's known as swarm intelligence to bring people together and form hive-minds that can make decisions better than any one individual can.
Unanimous A.I.'s past efforts with swarm intelligence have had some stunning success. In 2016, the company correctly predicted the top four Kentucky Derby finishers — in the correct order — with its UNU platform. It's also correctly predicted of sporting events and cultural moments, including the Super Bowl, the Oscars, the World Series, and even President Donald Trump's approval rating to within a decimal point. Inverse just teamed with Unanimous A.I. to predict the upcoming NBA season.
So if you're a pro wrestling fan and looking to make your prediction, let us know here.
Unanimous AI needs everybody in the room at the same time, so if you're around a computer and want to take part, here are the details:
The Inverse Community Predicts WWE SummerSlam
It's at 4 p.m. Eastern, Monday, August 14, 2017.
Participants are anonymous and will be asked to make six predictions for the event
Please use a computer — not a phone or tablet — and use Google Chrome.
The predictions experiment should last less than 15 minutes.
If you're game, drop your email in this form — we will only use your email to send you the link to the experiment page on the day. If you'd like, feel free to let us know your interests for future prediction experiments, and we'll reach out.
For more on how Unanimous A.I. uses swarm intelligence to make predictions, check out earlier story here.