The Four Sexiest Jobs Open at Pornhub
If you've ever wanted to work at an office where everything you do is Not Safe For Work, send in an application.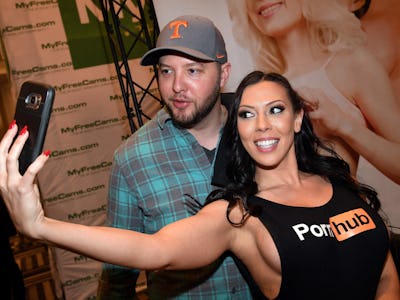 Getty Images / Ethan Miller
Are you passionate about bukkake? Could you give a twelve-slide Powerpoint presentation on gangbangs? Do you know how to put the sin in synergy? Lucky for you, Pornhub is hiring.
Pornhub unveiled an array of exciting positions on its jobs page Friday, and we at Inverse have thoroughly scoped out the spread. The landing page of listings is safe for work…. in that no ads proclaiming that local moms want to fuck will pop up. Still, you still probably shouldn't apply for other jobs while you're on the clock.
But if you're in the market, dust off your resumé and head over to Pornhub's job portal to check out some enticing openings.
1. Social Media Coordinator
Pornhub's social media coordinator spot is pretty cherry in the realm of social media positions. You get access to the brand's massive social media platform, compose safe for work content for the blog, and a bunch of people who love jerking off favorite your selfies.
If you are comfortable acting "as the 'face' of the brand" when the brand is literally pornography, then you should definitely apply to this position because you will get literally so much attention. Apply here.
2. Senior Product Manager
If you have ideas about porn that go beyond, "I love to watch porn," this job could be the one for you. As product manager, you'll steer the direction of the erection by doing things like "[developing] product strategy vision and roadmaps, and developing short, medium and long-term features to achieve the vision," and "actively managing content strategy."
Also, you have to respond to the feedback you get in Pornhub's feedback forum, which seems challenging, but it's nice to be able to crowdsource some ideas. Apply here.
3. Marketing Designer
If you've ever looked at the Pornhub logo plastered over three or four women in the midst of group sex and thought, "Huh, they could have centered that a little better," please apply to this job, you weirdo.
Pornhub is looking for a marketing designer who can bring a "strong artistic approach" to "rendering graphic elements using traditional tools, multimedia, image processing and design software." And boy, do they ever mean graphic. Apply here.
4. Model
If you already like filming yourself having sex, imagine how much more you'd like it if you were getting paid! Pornhub's model program gives verified users a cut of the ad revenue from each of the videos they post. If you get popular enough, that can start to add up.
Unlike the other jobs listed, being a Pornhub model doesn't come with a $500 annual gym stipend, but it does come with the knowledge that people are looking at you while they get themselves off. If that sounds good to you, apply here.
If you liked this article, check out this video on five steamy porn facts.