New Marvel 'Star Wars' Comics Recreate Classic 'Avengers' Covers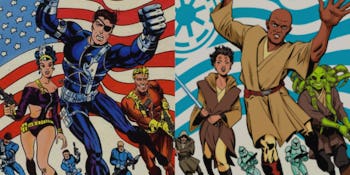 Marvel Comics, Lucasfilm
Jedi Master Mace Windu and SHIELD Director Fury have more in common now than leadership skills and Samuel L. Jackson. Marvel recently revealed variant covers for two of its upcoming comics series set in the Star Wars universe, and they're looking a little familiar.
Mace Windu #1 and Captain Phasma #1 both have variant covers that pay homage to classic Marvel superhero covers. And the characters that Windu and Phasma are emulating are totally fitting.
Of course, Jackson has famously portrayed Master Windu and Director Fury in the Star Wars prequel trilogy and the Marvel Cinematic Universe, respectively, so it absolutely makes sense that Windu's cover would follow in Fury's footsteps. And while Phasma probably doesn't match Tony Stark's Iron Man for strength, she definitely makes up for it with determination to hunt down her mark.
The classic cover featuring Fury is from the April 1968 edition of Strange Tales (issue #167) and Phasma's new cover is a homage to The Invincible Iron Man #69 from August 1974, which means both comics premiered on shelves before the first Star Wars movie, A New Hope, ever made it to the big screen.
Mace Windu #1 will be available in comic stores and online on August 23 while Captain Phasma #1 will be available on September 6.