"Swarm A.I." Says Jeff Bezos Should Spend His Money on Clean Water
It only took one minute for the swarm to decide.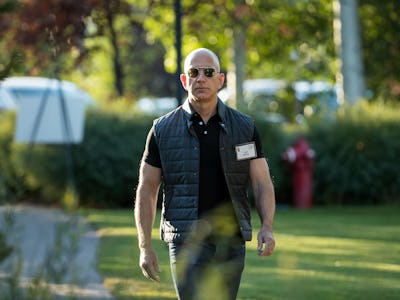 Getty Images / Drew Angerer
Earlier this summer, Jeff Bezos, Amazon CEO and the richest man in the world for a brief moment last month, asked on Twitter how he should spend some of his massive fortune on helping the world. There were more than 47,000 replies to Bezos' tweet. Sorting and organizing the replies would be quite the task.
Unanimous A.I., a San Francisco-based technology firm that specializes in so-called "swarm intelligence," which is a essentially a hive-mind created by internet users, used its platform to see how Bezos should act.
"I'm thinking of a philanthropy strategy that is the opposite of how I mostly spend my time — working on the long term," he commented on his Twitter account. "For philanthropy, I'm drawn to the other end of the spectrum: the right now."
Unanimous A.I. condensed the thousands of ideas into 200 categories. Next, 300 participants gave each of the 200 categories a score from 1-10; anything that got above a 7 moved forward. The most popular ideas — universal access to clean drinking water, health clinics for the poor, free medicine for the poor cancer treatment, and so on — were used in the experiment. In a nutshell, each participant controlled a little golden magnet (see below), and used it to drag the puck toward the answer they thought was the most likely outcome. The closer a user puts their magnet toward the puck, the greater the pulling force. This is where the hive-mind comes in: If a user sees the puck move toward an outcome, it triggers a psychological response. The user starts to readjust their decision-making, building toward a consensus. In the case of Bezos's question, the answer was clearly drinking water.
"Swarms encourage participants to be flexible," Unanimous AI's creator Louis Rosenberg tells Inverse. "A swarm is not a poll, it's not a survey, it's a system where people are not just expressing their opinion but expressing their level of conviction, their level of confidence."
It only took one minute for the "swarm" of participants to choose between the six options.
"This really wasn't close," Rosenberg told Business Insider about the experiment. There was a very, very strong sentiment in the swarm intelligence that universal access to clean drinking water was the issue that was the best use of the funds and you could have the biggest impact and the most long-lasting impact and also the most immediate impact."