You've Got a Right to Remain Silent on Facebook
Atlanta street performer claims police wrote a pro-cop message on his Facebook page after arresting im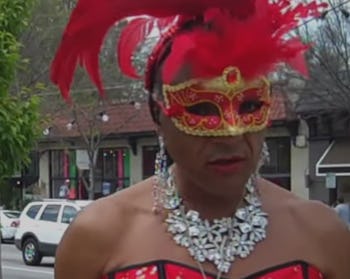 YouTube
A street performer just got a $20,000 settlement after alleging the Atlanta cops violated his rights by making a pro-police Facebook post part of the conditions of his release from custody, Creative Loafing reports.
The way Baton Bob tells the story, he was celebrating the 2013 U.S. Supreme Court ruling ending the federal ban on gay marriage by rocking an apropos wedding dress and dancing in the streets of Midtown Atlanta, natch. Then, as has happened so many times in the career of man who calls himself the Ambassador of Mirth, Bob's hand was stayed mid-twirl by some off-duty cops moonlighting as security guards.
As the situation escalated, Baton Bob found himself cuffed and booked by Atlanta Police Department Officer H. J. Davis. Bob alleges that not only was he not read his Miranda rights, but that he was forced to let cops post a fawning message to his Facebook wall as condition of release on a "signature bond." The Atlanta Journal Constitution reports that all charges against Bob, whose government name is Bob Jamerson, were dropped in 2014.
Here's the full text of the alleged Facebook post:
"First of all, the atl police officer that responded to the incident thru security has been very respectful and gracious to me even in handcuffs. So, the situation escalated from a complaint from a security officer in the area and for some reason she rolled up on me like she didn't know who I was and like I had not been there before. For them to call police to come to intervene was not necessary. So, out of it, because of my fury, the Atlanta police officer did not understand the elements of the situation, so he was trying to do his job, respectfully and arrested my ass!!!!!!!!! I'll be out tomorrow so look out for my show at 14th and Peachtree. So now I'm waiting to be transported so I can sign my own bond and get the hell out of here. I want to verify, that the Atlanta police was respectful to me considering the circumstances. See you when I see you!!!!!!!!!!!!!!"
Bob's suit said the arrest and the post in particular violated his right to free speech, his right to be free from compelled speech, and his right to remain silent while in custody. 
The city decided to settle outside of court. Davis left the force during the same month internal affairs started investigating the incident but nobody at the police department has made any admissions of guilt. Twenty large buys that kind of silence.