Benicio del Toro Will Be a Way Darker Han Solo in 'The Last Jedi'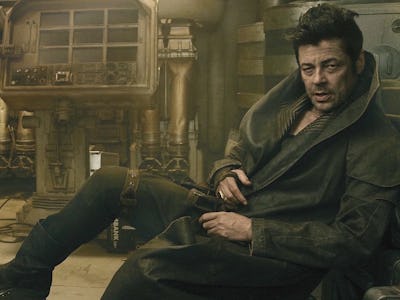 Vanity Fair
When the Resistance against the First Order is desperately in need of a hacker they call up a guy named DJ, played by Bencio del Toro. After endless speculation, the job of del Toro's character in Star Wars: The Last Jedi has been revealed. He's that "slicer" that was rumored to exist back in March.
"We just need a codebreaker and he's the best in the galaxy," John Boyega said in an interview published by Entertainment Weekly on Thursday. "Unfortunately, he's very dodgy and only in it for financial gain. He doesn't fight for any side." It's still not clear if "DJ" is the actual name of the character in the film, but it seems like he's an important part of Finn and Rose's mission to infiltrate the First Order. "The Resistance bombs the First Order one day, the First Order bombs the Resistance on another," Boyega explained. "It's an ongoing war that will never end. For him, he's trying to benefit off of that — which doesn't make him the person you want to trust."
EW points out that this makes DJ somewhat unique to the Star Wars canon, insofar as he doesn't have clear morals. But there's a certain smuggler from the original Star Wars who said "I expect to be well paid…I"m in it for the money," and his name was Han Solo. So, is DJ a much darker version of Han? Or will he end up being similar to Han, and join the fight against the dark side?
The Last Jedi opens on December 15.