5 Comedy Specials on Netflix to Make Your Day Suck a Lot Less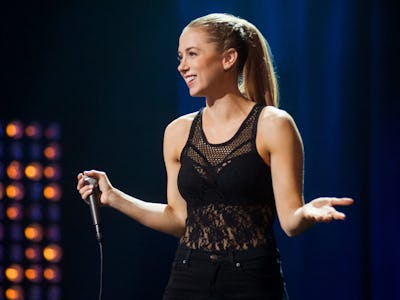 Netflix
There are so many comedy specials available to stream on Netflix that it's not even funny. Well, most of them are funny, but it's possible you've found some duds along the way if you've been streaming stand-up. So, we thought it'd be a good idea to pick some out the best ones that are all but guaranteed to make you actually lol.
If you've seen any of these before, then you'll thank us for bringing them to your attention again. And if you haven't seen them, then you're in luck; these are some of the funniest, most relatable and down-to-earth comedy specials currently available to stream on Netflix. They are guaranteed to put a smile on your face. And you know you need it after the weird, shitty week it's probably been.
Here are five of the best comedy specials on Netflix that we're positive will make your day, your week, and this upcoming weekend suck a whole lot less. Happy watching, and have a good laugh.
5. Donald Glover: Weirdo
Entertainment magnate Donald Glover isn't just a musician, director, producer, and actor; he's also an incredibly hilarious stand-up comedian. Weirdo is Glover's 2012 comedy special and it's a ride from start to finish. As he likes to say in the special, though, if you're just here because you love his role in Community, this might not be the act for you.
4. Iliza Shlesinger: Confirmed Kills
Iliza Shlesinger's weird fucking brand of comedy — which involves lots of voices, hunched shoulders, and commentary about people's habits in their 20s — is the perfect way to zone out for a little while. Let her introduce you to the "party goblin" and criticize people's horribly hilarious life decisions.
3. Aziz Ansari Live at Madison Square Garden
You know him from Parks and Recreation and, more recently, Master of None, but if you've never heard him wax poetic about the drama of modern dating, then you haven't fully enjoyed the wonder that is Aziz Ansari. You can say this about a lot of comedians, sure, but Ansari is currently one of the most relatable voices in the business. He gets it, guys.
2. I'm Brent Morin
Brent Morin's whole thing is that he's always been insecure and awkward — but he turns that to his advantage. Morin's known for extended bits that go just a little too long to be average and lots of yelling. He picked out the blue curtain in the background to make his eyes pop and he's got some interesting thoughts on how dicks look like aliens. So, there's that.
1. Hasan Minhaj: Homecoming King
The Daily Show's Hasan Minhaj was never Homecoming King back in the day, but he's got a ton of brutally honest, hilarious stories to tell you about growing up with immigrant parents in a predominantly white neighborhood. His antics, jumping around his multi-level stage as he ramps up to a punch line only to drop a hard truth on you at the last second, will leave you reeling in the best way possible.