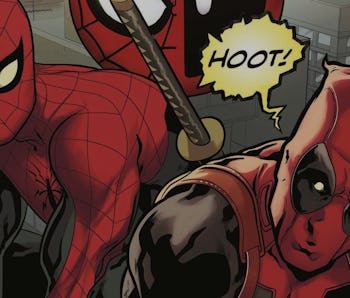 Entertainment
'Deadpool' Star Ryan Reynolds Trolls Spider-Man
Marvel Comics
Deadpool is known for messing with Spider-Man in the comics, and the man playing the Merc with a Mouth on the big screen took to Twitter to continue the tradition.
On Tuesday, Reynolds tweeted a picture of himself surrounded by officers from the Vancouver Police Department. The caption reads, "Thank you #VPD. And the great people of Vancouver for putting up with road closures and traffic delays as we film Spider-Man downtown." Along with the Vancouver Police Department, Reynold's tagged the new Spider-Man actor Tom Holland in the tweet. And, if you look closely, you can see Reynolds doing Spidey's classic web-shooting "thwip" gesture with his right hand.
The joke is clearly spoofing the similarities between the two heroes. Spider-Man and Deadpool sport a similar color-scheme and costume design, and they're both known for their quips.
Reynolds has interacted with Holland over Twitter before. When the latter tweeted on June 3 that he was thinking about getting a buzz cut for Spider-Man: Homecoming's sequel, Reynolds replied, "I'm going for the full Brazilian wax. Not gonna let fear run my life."
Though it was clearly a joke, there's an unlikely chance that one day Reynolds might tweet about Deadpool and Spider-Man and not be a total troll. Tim Miller, director of the first Deadpool, told SuperHeroHype in April 2016 that he and producer Simon Kinberg had been trying to "build bridges" to allow a meeting between Spider-Man and Deadpool. And while Miller isn't returning to direct the sequel, Deadpool 2 director David Leitch hasn't exactly been quick to shut down rumors about hidden Spider-Man connections. After seeing the teaser for the sequel that ran before Logan, fans theorized that the old man Deadpool failed to save from a mugging was Spider-Man's uncle, Ben Parker. And, when HuffPost asked him about it on July 27, he [replied], "That's a really interesting question. I think that people should continue to theorize who that old man was."
Given that both studios have thriving cinematic universes, and probably aren't keen on separating film profits from merchandising rights (as Marvel did with Sony), chances are Deadpool and Spidey probably won't be officially meeting in the movies anytime soon. So, for now, Reynolds's trolling will have to do.