Christian Slater Is Creepy Star-Lord in New 'Rick and Morty' Clip
The man also loves to knock back some martinis.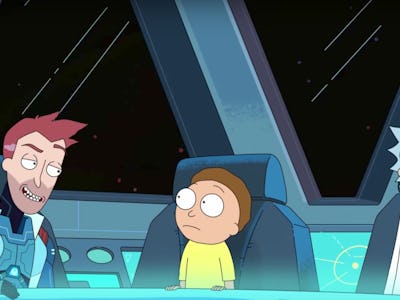 'Rick and Morty'
The Rick and Morty equivalent of Star-Lord "never forgets a kid!"
Wait, what?
We've known for some time that Rick and Morty Season 3 would satirize Marvel's Avengers and Guardians of the Galaxy. Their leader, Maximus Renegade Star Soldier (as voiced by Christian Slater), is basically a troubling version of Chris Pratt's Star-Lord. He's effortlessly suave, widely beloved, and can do no wrong in the eyes of his fellow Vindicators.
But if the latest teaser for the upcoming episode is any indication, then he's a bit creepy towards kids and knocks back a few too many martinis at happy hour. When he flies in late and vaporizes his own martini glass, apologizing half-heartedly, everybody laughs when he mentions "happy hour."
Morty's in awe: "It's Maximus Renegade Star Soldier!" But Rick isn't impressed at all: "I was also late because of my drinking and mentioned it to zero applause." We already know that Rick wanted to refuse the "literal call to adventure" that he and Morty get from the Vindicators, so his unwillingness to help them will continue throughout the episode.
Check out the teaser clip from the upcoming episode right here:
The clip opens on the Vindicators' war room aboard their massive ship as the group (including Rick and Morty) is briefed on the return of "Worldender," who we glimpsed briefly in the Season 3 trailer. This generic Thanos/Darkseid hybrid wants to "end more than worlds" — just like every other supervillain these days.
The rest of the Vindicators include a confusing assortment of pulls from both Marvel and DC Comics. They might as well be called Gatorborg, Chain Lantern, Celestial Vision, and Sludge.
The gator cyborg seems pretty unprecedented, but the guy with the chain around his neck resembles some sort of variation on DC's Green Lantern. The floating purple woman has a gem attached to her forehead, which could be referencing Marvel's Vision (who has an Infinity Stone in his head). The closest equivalent to the blob character is either Batman's villain Clayface or Marvel's The Thing, who is one-quarter of the Fantastic Four.
Whether or not Rick likes it, he and Morty will have to team up with the Vindicators to stop Worldender from not only ending some worlds but, also, from making fun of Marvel and DC blockbuster movies too much.
Rick and Morty Season 3 continues on Adult Swim Sunday, August 13 at 11:30 p.m. Eastern with "Vindicators 3: The Return of Worldender."