A Guardian of the Galaxy Makes a Surprising New BFF in 'Infinity War'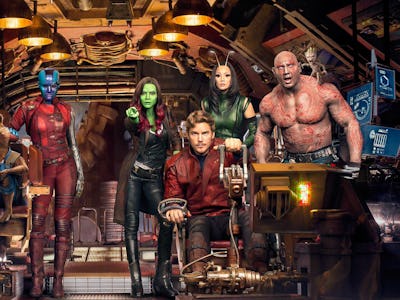 Marvel
The long-awaited Avengers: Infinity War will bring together just about every character from just about every corner of the Marvel Cinematic Universe. That means there are going to be some fun, weird new pairings, and a Guardians of the Galaxy actress says that her character, in particular, will make a surprising BFF.
Karen Gillan, who played the blue, bald Daughter of Thanos, Nebula, in Guardians of the Galaxy and Vol. 2, spoke to Fandango to tease the unexpected friendship. Nebula is probably the most prickly member of the Guardians (and that's saying something), so it's probably going to be a hoot watching her make new friends.
"I know who her new BFF is, and I can't tell you. I can't," Gillan said. "I promise you it's brilliant and unexpected and just so good… I don't know about any frenemies. She is on a clear mission, as everybody is, to deal with someone with a glove, and I think that is the most important issue. So I think people are grouping together to take care of this task."
Gillan's comments hardly hint at who, exactly, her new BFF is. It's probably safe to bet that it's not a character from the Guardians movies, since that wouldn't be surprising. There are plenty of characters that would be fun to see alongside Nebula. Loki, especially, would be fun, since he's also an antihero who is an adoptive sibling to one of the protagonists. Or perhaps it'll be Vision, since he's also a weird cyborg who is a strange color.
We'll find out more by the time Infinity War hits theaters on May 8, 2018.