Spotify Launches on Xbox One With Curated Gaming Playlists
The release marks the end of PS4 exclusivity.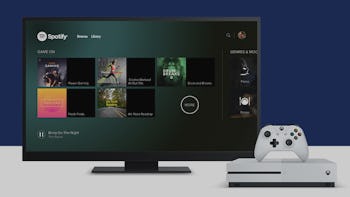 Spotify
It's official: music streaming service Spotify is coming to the Xbox One. The new app for the games console allows users to listen to playlists mid-game, stream on-demand songs and browse the full catalogue of music. The release comes over two years after Sony released a Spotify app for the PlayStation 4, through an exclusivity deal that locked Microsoft out of offering a similar choice.
"Music continues to be essential when creating the ultimate gaming experience," Mikael Ericsson, product director of platform and partner experience at Spotify, said in a statement. "Starting today, we're really excited to offer Xbox One gamers the ability to choose their own unique soundtrack while enjoying their favorite games."
The new app is straightforward enough to get installed. Switch on the console, go to the Xbox Store, and search for the Spotify app. When downloaded and installed, you'll be prompted to either log in or create an account.
Spotify boasts a number of gaming-specific features. Under Browse, players will find a Gaming hub that offers pre-curated playlists around certain gaming styles. For example, players looking for a high-octane session can load up the Power Gaming playlist and stream mid-game. The app also features a curated playlist from Larry Hryb, a figure in the Xbox gaming community more commonly known as Major Nelson.
Like the PS4 version, Spotify Connect will allow users to control music playback through their phones, tablet or laptop. Load up the app on a supported device while using the Xbox One version, and you'll be able to control and load up music directly on the device.
With the launch of Spotify, Microsoft has gained a crucial feature previously exclusive to Sony's console. The move comes ahead of the Xbox One X launch this November, the highly-anticipated upgrade to the original Xbox One that plays supported games at 4K resolution. Competing against the PS4 Pro, both consoles now boast the ability to customize an in-game soundtrack around players' preferences.
The new app is available in the following countries: