16 TV Theme Songs We Never Fast Forwarded
Even if the episode was lame, the opening theme saves it.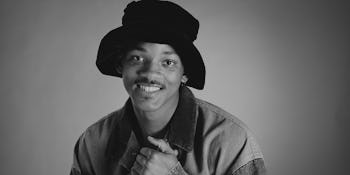 YouTube
There's nothing quite like a good TV theme song to get you pumped for the coming couch ride. That's why — despite the trend away from snappy melodies — there are a ton of title sequence tunes burned in our collective pop culture subconsciousness.
From retro, after-school cartoons to Sunday night prestige dramas, here are the songs that made us want to watch shows we might have otherwise skipped.
1. 'Fresh Prince of Bel-Air'
Either every word is known or its mumbled past "You're movin' with your auntie and uncle in Bel-Air."
2. 'The X-Files'
Not every iconic theme song has to have lyrics. This one is remembered for its eeriness that makes anyone want to believe. In stuff.
3. 'Mighty Morphin' Power Rangers'
Watching Power Rangers is like eating candy: It's colorful, sugary, lacks nutritional value, and makes you childish. Maybe that's what Simon Pegg is worried about.
4. 'Mad Men'
This list isn't about nostalgia, unless someone really misses the summer of 2011 when the first four seasons became available on Netflix and was binged immediately. Also:
5. 'Friends'
If one still claps when they know when to clap, then this song has succeeded. Fun fact: Those fountain scenes were shot in unseasonably cold weather.
6 'True Detective'
The breakout prestige drama of 2014 opened with a bone-chilling song that perfectly fit the dark, American gothic aesthetic even though it was written long before the show existed.
7. 'Saved by the Bell'
It is contractually obligated to air guitar when the guitar solo comes on. Hefty fines are levied upon failure to comply.
8. 'The Wonder Years'
This one can make anyone cry with bittersweet memories of a summer they never had. Who can play baseball in the street anymore? That's a lawsuit waiting to happen.
9. 'Batman: The Animated Series'
This show right here won EMMYS. The Television Academy must have loved its opening as well, which captured the spirit of Danny Elfman's theatrical scores and brought it to Saturday mornings.
10. 'Inspector Gadget'
The techno remix that everyone downloaded on Kazzaa was actually a remix of "In the Hall of the Mountain King," not Inspector Gadget. Just an FYI.
11. 'X-Men'
Composed by the same genius who made the Mighty Morphin' Power Rangers theme, this guitar-heavy intro is one of the coolest reminders of what after school cartoons were like at their best.
12. 'Animaniacs'
Kids loved it because it was a cartoon, but it's only in adulthood when one could appreciate the show's clever wit. "We have pay-for-play contracts" is a genuinely funny line now that they're old enough to get it.
13. 'Full House'
The prototypical sitcom of the '90s naturally had the prototypical sitcom theme to go with it. It might sound worse nails on a chalkboard, but it is comforting to know that a light is waiting to carry you home. Whatever that means.
14. 'The Twilight Zone'
Same reasons for The X-Files, only way creepier.
15. 'Dawson's Creek'
As beloved as this song has become for pretty much all '90s kids and stereotyping The WB/The CW for the years to come, it wasn't the original choice.
16. 'Game of Thrones'
Because of course this belongs here. Who in their right mind skips this masterpiece by Ramin Djawadi? If they do, their HBO subscription should be revoked.