ILM Makes Hunky Robert Kazinsky a Beefy Orc for 'Warcraft'
First-look at orcs for 'Warcraft.'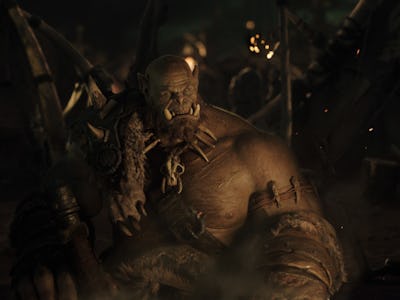 Boyish orthodontia commercial Robert Kazinsky is the face of the Warcraft movie, due out next summer and based on the massively popular video game series. 
Not that you'd have even a faint notion it's Kazinsky under that heathenish brow and inverted pyramid of a nose. Renowned visual effects studio Industrial Light & Magic is responsible for gussying up Kazinsky into Orgrim Doomhammer, an orcish warchief. The studio worked with Blizzard Entertainment, the developers of the games, by merging scans and pictures of Kazinsky with their own concept art of the character. 
In a statement with Wired, director Duncan Jones says Kazinsky is perfect as the brutish Orgrim: "We were looking for someone who would be able to perform the gruffness, the humor, and the toughness of this character."
What would Warcraft be, after all, without humor? Only Leroy Jenkins knows.