Google Responds to Sexist Internal Memo Circulating Through Company
"Diversity and inclusion are critical to our success."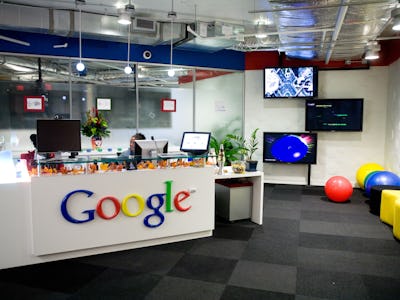 Getty Images / Brendan Hoffman
On Friday, a male Google employee released over the company's email list a ten-page document railing against the company's culture of political correctness, taking aim in particular at the concept of diversity and representation in tech by suggesting that inherent differences between the sexes essentially meant women weren't that good with computers.
Motherboard first reported on the document's existence on Saturday, kicking off a frenzy of internal activity and scathing commentary from outside the company. Within hours, two executives at Google, including the company's new head of diversity, Danielle Brown, responded, after Gizmodo obtained and published in-full the rambling, lightly-sourced screed.
The document's general point is that differences in equal pay between the sexes are more a result of "biological differences" between men and women, and that in focusing on maintaining equality and increasing diversity, Google is "alienating conservatives" and harming its own company culture by discriminating against men. The employee has not been named, but he allegedly works under Ari Balogh, Google's VP of Storage Infrastructure products. On Saturday, Balogh responded to with an internal Google + post:
I'd like to respond to the "pc-considered-harmful" post. Questioning our assumptions and sharing different perspectives is an important part of our culture, and we want to continue fostering an environment where it's safe to engage in challenging conversations in a thoughtful way. But, in the process of doing that, we cannot allow stereotyping and harmful assumptions to play any part. One of the aspects of the post that troubled me deeply was the bias inherent in suggesting that most women, or men, feel or act a certain way. That is stereotyping, and it is harmful.
Building an open, inclusive environment is core to who we are, and the right thing to do. 'Nuff said.
Balogh's response, interestingly, was more explicit that Brown's. Balogh directly mentioned that the anti-diversity employee's writing focused overwhelmingly on generalizations about men and women and reflected a stereotype-filled outlook on a binary concept of gender. Interestingly, the manifesto also overwhelmingly focused on the perceived effects of allowing more women into the software design and programming workforce, but did not address the disproportionate ethnic makeup of tech jobs in Silicon Valley, where minority men (presumably, according to the manifesto's author, with the same brainpower as their persecuted white counterparts) are severely underrepresented.
"Nothing about why black and Hispanic men aren't software engineers?" Charles Isbell, a black professor who is the executive associate dean of the Georgia Tech College of Computing, told the Atlantic., which notes that he was paraphrasing Duke's Jeffrey R.N. Forbes, another black computer scientist. "Did I glaze over that bit?"
Brown, a Caucasian woman, took a relatively middle-of-the-road response to the document. Brown said the document was "not a viewpoint that I or this company endorses, promotes or encourages," but unlike Balogh, she didn't allude to any of the logical failures of the original document. Here's Brown's statement in full.
Googlers,
I'm Danielle, Google's brand new VP of Diversity, Integrity & Governance. I started just a couple of weeks ago, and I had hoped to take another week or so to get the lay of the land before introducing myself to you all. But given the heated debate we've seen over the past few days, I feel compelled to say a few words.
Many of you have read an internal document shared by someone in our engineering organization, expressing views on the natural abilities and characteristics of different genders, as well as whether one can speak freely of these things at Google. And like many of you, I found that it advanced incorrect assumptions about gender. I'm not going to link to it here as it's not a viewpoint that I or this company endorses, promotes or encourages.
Diversity and inclusion are a fundamental part of our values and the culture we continue to cultivate. We are unequivocal in our belief that diversity and inclusion are critical to our success as a company, and we'll continue to stand for that and be committed to it for the long haul. As Ari Balogh said in his internal G+ post, "Building an open, inclusive environment is core to who we are, and the right thing to do. 'Nuff said. "
Google has taken a strong stand on this issue, by releasing its demographic data and creating a company wide OKR on diversity and inclusion. Strong stands elicit strong reactions. Changing a culture is hard, and it's often uncomfortable. But I firmly believe Google is doing the right thing, and that's why I took this job.
Part of building an open, inclusive environment means fostering a culture in which those with alternative views, including different political views, feel safe sharing their opinions. But that discourse needs to work alongside the principles of equal employment found in our Code of Conduct, policies, and anti-discrimination laws.
I've been in the industry for a long time, and I can tell you that I've never worked at a company that has so many platforms for employees to express themselves — TGIF, Memegen, internal G+, thousands of discussion groups. I know this conversation doesn't end with my email today. I look forward to continuing to hear your thoughts as I settle in and meet with Googlers across the company.
Thanks,
Danielle
Kara Swisher, a veteran Silicon Valley journalist and the founder and editor of Recode said what neither Brown nor Balogh could, calling the document "sexist twaddle, wrapped in the undeserved protection of free speech." The First Amendment goes both ways, she explained.