Stephen King Clearly Doesn't Care That Critics Hated 'Dark Tower'
"I think they made a hell of a movie."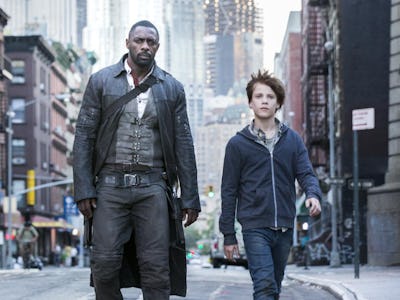 Sony Pictures Entertainment
Prolific horror maestro Stephen King has been in the business too long to be stifled by critics. With dozens of books to his name over a decades-spanning career, dreary reviews for The Dark Tower, based on King's famed series, don't seem to bother him.
Vanity Fair published a story about King's recent, ongoing, and past success on Friday. It highlights the seven King-inspired television series and movies that have either already premiered or are set to premiere sometime in 2017 — The Mist, Mr. Mercedes, Castle Rock, It, The Dark Tower, Gerald's Game, and 1922 — while mainly focusing on Dark Tower.
"The Dark Tower fans are rather to the point where they show up in autograph lines and they've got tattoos on their body—of the Dark Tower, or Roland, or guns, or whatever it is," King said. "So sure, I want the movie to please them, and I don't know if it will or not. But I always say, if you don't like it—and I do—go on back and read the book again, because you can't change that, so. But like I say, you just have to see what happens. I think they made a hell of a movie."
Dark Tower, starring Idris Elba as Gunslinger Roland Deschain and Matthew McConaughey as the Man in Black, has been inundated by terrible reviews so far. As of the publishing of this article, the film sat at a dismal 17 percent approval rating on Rotten Tomatoes. But it seems the disapproval of critics and even long-time fans of King's notoriously complicated, fantastical series aren't consequential in the author's mind.
The Dark Tower is now in theaters.