'The Mist' Adds a Disturbing Update Based on True Events
"I sat down and thought about: 'What is the most terrifying thing I can think of in recent history?'"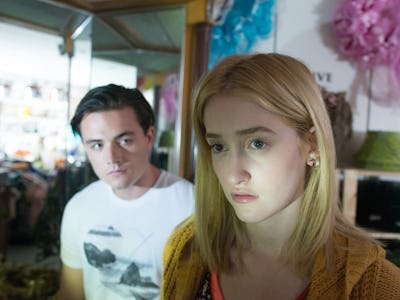 Spike TV
Before the mist in Stephen King's new TV show begins crawling into the small town of Bridgeville, Maine, human evil is already thriving. We watch two parents, Eve (Alyssa Sutherland) and Kevin Copeland (Morgan Spector), as they tear apart their house looking for their teen daughter, Alex (Gus Birney). They find her sitting in silence in the backyard, hands folded and shaking. She tells them her crush, Jay (Luke Cosgrove), the star of the football team, whom her parents had been teasing her about the night before, has done something to her. She can't remember, but she can feel what happened.
Why begin a horror TV series with a rape storyline? In an interview with Inverse, creator Christian Torpe and his team say their decision to include sexual assault in Spike's The Mist pilot, a topic that King doesn't even touch on in his 1980 novella, was about finding real instances of horror in our world. The assault isn't written to motivate a male character, but instead powers a pressure cooker that encapsulates the whole town.
"We took the heart of [King's] novella, which worries about what people do when they're blinded by fear," Torpe told Inverse. "It's a very King thing to do the small-town world where everyone knows each other and there's repressed sexuality and this constant, ongoing battle between conservatism and progressive ideology."
Jay, whose father is, conveniently, the local sheriff, is reluctantly pulled from school and taken to the police station to answer questions, and Eve and Kevin take Alex to a doctor. An examination reveals that there was no sign of physical violence against Alex, but that there was intercourse and, most damningly, traces of Triazolam in her system. Triazolam, a benzodiazepine, is commonly used to treat insomnia and can cause memory loss, especially when paired with alcohol. Jay had encouraged Alex to drink upon her arrival at the party, right after he saved her friend, Adrian (Russell Posner), from some of the other football players.
Jay's stepping in to protect Adrian solidifies his "knight in shining armor" routine for Alex; she trusts him and, most importantly, the audience trusts him. "He's different," the audience thinks as Jay leads Alex away from Adrian to get her a drink. "He's not a stereotype."
That peace of mind is quickly ripped away.
"One of my inspirations for this show as I sat down and thought about 'What is the most terrifying thing I can think of in recent history,'" Torpe tells Inverse. He recalls the disturbing rape case in Steubenville, Ohio, in which Trent Mays and Ma'lik Richmond digitally raped an unconscious girl and took photos of her exposed body to share with their friends. "And still," Torpe says, "even after all that, even after there was clear evidence and the people were convicted, that family and the girl were bullied out of town because she had dared to go up against the football heroes. And I just cannot think of anything more terrifying than that."
Torpe said those actions spoke to him of "an underlying hatred and misogyny that I thought was incredibly timely and relevant," and that it's a situation that people often shrug off. He didn't want to let his fictional town do the same.
"We were conscious about telling a story that wasn't necessarily about catching the person who did it. Because it's always about the detective solving the crime, it's never about the victim," Torpe said. "And we wanted to do a story about how it affects a young teenage girl to have that power taken away from her and how she can find her way back to herself after that."
The end of the pilot reveals that the titular mist has not only trapped Alex in the mall with her victim-blaming neighbors, but that it's trapped her in the mall with her rapist.
With everything going on — with the bugs eating people alive, the senseless death, and the dramatic mystery of the mist itself — it's easy to forget that Alex's glazed expression is more than average teenage angst. Jay, huddled in a corner, sitting on his letterman jacket, meets Alex's eyes at the end of the episode. She freezes, the terror of seeing a woman with her jaw torn off moments ago forgotten. Viewers are reminded in tandem with Alex that she's gone through something that's probably going to stay with her for the rest of her life. It's the most effective kind of horror, dragging people back to reality to face it under a spotlight.
Despite reassurance, the inclusion of a sexual assault and implied rape — the word isn't actually used in the first episode — is still troubling. Using the trauma of a young woman as shock factor, as a narrative tool in a fictional story about supernatural mist, is a precarious line to ride. It's enough of a cold shower to make you sit back, grimace, and really think about the situation at hand. This kind of thing happens all the time in our world, minus the mist. And that means that, if Torpe and the team behind The Mist tread carefully, they could really create a worthwhile narrative; people are typically more willing to examine their reality through the lens of fiction.
Not only is Alex powerless in the face of her mother's fear and the town's belief, but the mist has taken the option to physically distance herself from her attacker with its arrival. And with the way the town has already proven itself ready to condemn Alex as a "slut," it seems Torpe really did find the "most terrifying" thing he could to remake The Mist.
The Mist airs on Thursdays at 10 p.m. Eastern on Spike TV.