Why Michelle Carter Will Remain Free in 'Texting Suicide' Case
The judge granted a motion to stay her sentence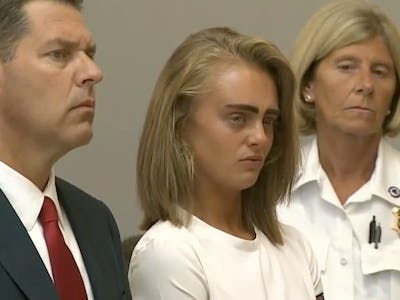 YouTube
Michelle Carter went home today. The 20-year-old woman, convicted of involuntary manslaughter for her involvement in the suicide of her then-boyfriend, Conrad Roy III, was sentenced to 15 months in prison along with five years probation in Massachusetts state court on Thursday.
These messages, for example, were sent between July 4 and July 12 in 2014:
Carter: "You're gonna have to prove me wrong because I just don't think you really want this. You just keeps pushing it off to another night and say you'll do it but you never do"
Carter: "SEE THAT'S WHAT I MEAN. YOU KEEP PUSHING IT OFF! You just said you were gonna do it tonight and now you're saying eventually. . . ."
Carter: "But I bet you're gonna be like 'oh, it didn't work because I didn't tape the tube right or something like that' . . . I bet you're gonna say an excuse like that"
Carter's lawyer, Joseph Cataldo, said after her conviction on June 20 that the family was weighing its option.
"This is a very unique and despite the court's findings novel issue involving speech alone, without presence — without physical presence," Cataldo said then. "I suggest this is a very important legal issue that needs to be pursued in the appellate court."
On Thursday, he did file an appeal with Judge Lawrence Moniz, who granted Cataldo's defense motion to stay Carter's sentence, which means she will remain free pending her appeals in Massachusetts.
Cataldo plans to appeal on the grounds of free speech. While speech (or texts, in this case) is protected by our First Amendment rights, there are exceptions. If someone "knowingly and willfully" uses words to bring another harm, for instance, that isn't the free speech we're guaranteed. He also plans to appeal whether she had a legal obligation to get help when she learned of Roy's suicidal intentions.
"This is not a suicide case. This is not a First Amendment case," said Assitant District Attorney Maryclare Flynn, in opposition to the stay requested by Cataldo.
The stay of sentencing does not come as a shock to some. Media personality and self-described "Constitution Advocate" Tariq Nasheed observed on his Twitter account: "I told people before the sentencing that #MichelleCarter wasn't going to get no major jail time. She was sentenced to 2 yrs."
"She gets to go home tonight and can go to Disney World tomorrow," said Jimmy Brodeur, who is engaged to Roy's aunt Kim Bozzi, in report published by MassLive. "Have fun."
See Also: What Is Sarahah? How to Link to the Anonymous Messaging App on Snapchat