How to Watch Stephen King's Mysterious 'Mr. Mercedes' TV Show
It premieres tonight, and is a little difficult to get to.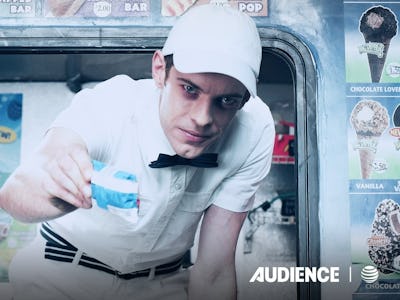 Audience
Of all the recent and upcoming Stephen King adaptations, there's probably one you keep forgetting exists. Mr. Mercedes, a television series based on King's 2014 novel of the same name, is set to premiere on August 9 on AT&T's commercial-free Audience Network. The few critics who have reviewed the show are pretty in love — so we thought we'd let you know how to join in on all the fucked up fun.
David Kelley, responsible for other shows such as Amazon's Goliath and HBO's Big Little Lies, wrote and adapted Mr. Mercedes for television and executive produced alongside director Jack Bender (Lost, Game of Thrones, Under the Dome).
The series stars Brendan Gleeson as Bill Hodges, a hardened, retired police detective, and Harry Treadaway as Brady Hartsfield, a demented killer who goes by the name "Mr. Mercedes." Brady mows down a group of civilians while driving, yes, a Mercedes, then decides to lead former Detective Hodges on a cat-and-mouse chase via mysterious letters and taunting emails. Any more information might give the plot away, so we'll leave you with that.
King has described Mr. Mercedes as the first real hard-boiled detective story he's published over his decades-spanning career. Now, it's getting the television treatment. It's just going to be a little hard to get to.
See, unlike the six other ongoing and upcoming King projects premiering in 2017 (The Mist, Castle Rock, It, The Dark Tower, Gerald's Game, and 1922), Mr. Mercedes isn't premiering on network television, a popular streaming service such as Netflix, or in a theater; it's on AT&T's Audience Network, which is only available to AT&T subscribers.
The Audience Network can be found via DIRECTV (AT&T's satellite television company), AT&T U-verse, and DIRECTV NOW. And if you don't have an AT&T subscription, well, that kind of sucks. We're sorry to tell you that you might have to get a little creative to watch the show (not that anyone's recommending that).
Mr. Mercedes premieres Wednesday, August 9, at 8 p.m. Eastern/Pacific on the AT&T Audience Network. The Audience Network is available on DIRECTV Ch. 239 or U-verse TV Ch. 1114 and via live streaming on the DIRECTV and U-verse apps and DIRECTV NOW.