When SpaceX Tried to Buy Missiles From Russia: Vodka and a Run-Around
In 2001, Elon Musk was rocket-less but had Martian ambitions.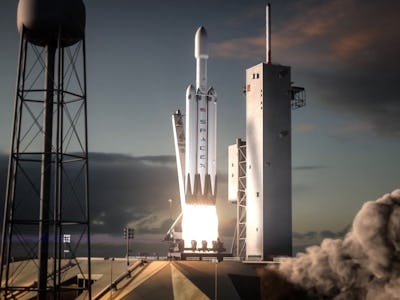 SpaceX/YouTube
SpaceX is getting ready to reach a major milestone on the road to Mars. In November, the company will launch its super-powered rocket, the Falcon Heavy, into space. The 230-foot tall rocket will be capable of carrying 37,000 pounds of Mars-bound cargo. If the test is successful, the Falcon Heavy will become the most powerful rocket on Earth.
The Falcon Heavy launch is a far cry from 16 years ago, when the company founder Elon Musk could barely manage a small step, let alone a giant leap. In 2001, Musk had Martian ambitions but no rockets. So he flew to Russia to buy three intercontinental ballistic missiles, or ICBMs. He thought the Russians would give him a good deal. He thought wrong.
Awash in cash after selling PayPal, Musk wanted to send something to Mars — perhaps a mouse in a space capsule — to ignite public interest in space exploration. Musk and his partners called the company "Life to Mars," but they weren't so ambitious as to consider getting into the rocket-building game. This Russian adventure, however, fueled Musk's plans to begin manufacturing his own rockets. He founded SpaceX the next year.
But still rocket-less in 2001, Musk and his partners Adeo Ressi and Jim Cantrell first went rocket shopping in Paris, where they sought to buy rockets from the European space company Arianespace. But the European rockets were too expensive. During the meeting, however, they got word that the Russians wanted to unload some repurposed ICBMs, so Musk and company flew east.
Ressi recounted the "Wild West"-like experience to Esquire in 2012. After paying off some corrupt cops on the road to their meeting, Musk's rocket-buying team arrived at the Russian rocket negotiations, which entailed a lot of vodka quaffing:
"Then we started having meetings with the Russian space program, which is basically fueled by vodka. We'd all go in this little room and every single person had his own bottle in front of him. They'd toast every two minutes, which means twenty or thirty toasts an hour. 'To space!' 'To America!' 'To America in space!' I finally looked over at Elon and Jim and they were passed out on the table. Then I passed out myself."
Following this European bender, the Russians visited Musk and Ressi in Los Angeles, where the Russians told them, "We can't continue unless you give us $5,000 in cash." Finding five grand on a Saturday is no easy task, but Musk and Ressi borrowed the money from the opulent Mondrian Hotel in West Hollywood.
The third and final meeting happened back in Russia. Musk flew there with Cantrell, prepared to purchase three ICBMs for $21 million. But to Musk's disappointment, the Russians now claimed that they wanted $21 million for each rocket, and then taunted the future SpaceX founder. As Cantrell recounted to Esquire:
"They said, 'Oh, little boy, you don't have the money?"
This insulting event, however, played a part in inspiring Musk to found SpaceX, which in 2017 alone has successfully launched nine rockets into space and has twelve more launches on the docket this year. On the flight back, Musk turned to Cantrell and said:
"I think we can build a rocket ourselves."