Amazon's 'Black America' is the Opposite of HBO's 'Confederate'
Alt-history strikes back.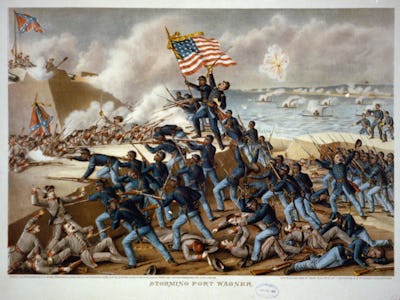 Wikipedia, creative commons 
The future of television will be filled with clashing alternate history Civil War stories. David Benioff and D.B. Weiss's follow-up to Game of Thrones — an alternate-history HBO show about modern day slavery — has not been received with enthusiasm, to say the least. But Amazon has just announced their own alternate history Civil War show that seems like the antidote to Confederate.
Called Black America, the Amazon series will revolve around freed African Americans post-Reconstruction who secure Louisiana, Mississippi, and Alabama and form a sovereign nation called New Colonia.
It's pretty much the polar opposite of Confederate, which will envision a dystopian world in which African Americans are less empowered. Black America will be an alternate history utopia in which African Americans are more empowered, as it envisions an America in which reparations for slavery have been given.
Although the timing of the announcement about Black America seems like a winking retaliation for Confederate, the show has been in development for over a year, according to Deadline.
It will be helmed by Black Jesus co-creator Aaron McGruder and Straight Outta Compton producer Will Packer.
About Confederate, Packer told Deadline, "the fact that there is the contemplation of contemporary slavery makes it something that I would not be a part of producing nor consuming. Slavery is far too real and far too painful, and we still see the manifestations of it today as a country for me to ever view that as a form of entertainment."
Neither Confederate nor Black America have premiere dates yet.